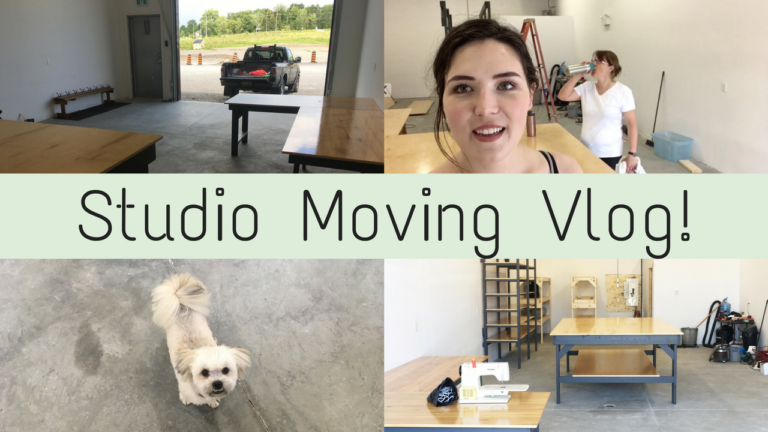 Hi All,
So I finally took the plunge. Video.
I have to say that it's been a pretty daunting- the whole idea of filming things- figuring out cameras & audio, thinking about lighting and the way that I want my videos to look.  There are so many things to think about, so many things to learn. Then once you have some footage- you have to put it all together and edit it into something that people might want to watch- yikes!
So naturally- being me- I just jumped right in and decided that a 'my life / bring you around with me as I move studios' style of vlog would be the best place to start! I know that I LOVE watching videos like this- I've been watching YouTube since 2010, and I just love how you get to know people and see their lives (yes I'm just super nosey). But it's such a cool personal connection and way to share information. And I really wanted to give you guys a glimpse of the 'behind the scenes' of my business and life, and to see my new studio as it all unfolds!
Now, of course, I'm planning a lot of different content for this video channel- not just 'follow me around' vlogs. I'm thinking about all the different tutorials I can do, maybe some lookbooks for patterns I plan to release, some fun sewing videos.. the ideas are endless. But I just love the idea of you guys coming along with me on this sewing business journey!
SO for this vlog- what is it about?-  This vlog is all about moving into my new studio – this is going to be a part 1 of 2 moving vlogs- so you can see the transformation of my new studio space as I move all of my things over, and start to organize the space.
Hi All!
Today I have a really simple and quick Tipsy Tuesday DIY!
If you are anything like my family and wine- you may also have a stash of corks somewhere in your house. If you are one of those people who doesn't hoard everything and throws your corks away after the wine is gone- then you might consider keeping them after this post!
This is one of the most simple DIY  projects I have ever done – All you need are corks, a hot glue gun- and some type of surface that you want to make into a pin-board.
In my case this was a little over-counter light self that my dad made for my kitchen in my new apartment! I thought that it was the perfect place to pin up recipes while I make them!
(BEFORE)
(AFTER)
You'll notice that the before and under construction photos are all in night lighting, and that's because I did this project with my mom on New Year's Eve! Since we were spending NYE in we thought we'd get crafty with a simple quick project- and this was perfect!
You can definitely figure out your favourite wines doing this- Sandbanks Baco Noir anyone?
If you find, like me, that you don't have an area that is the exact length of your corks, and you are left with space, you can always cut your corks in half and put them the other way. This cork is from Thatcher winery in California – and they have a cricket printed on the inside end of their wine cork- it really adds colour being stained from the wine! it's so cute 🙂
I found it easiest to cut my corks with a little hand saw 🙂
A simple 15 minute project- and now I have the perfect place to pin my recipes! And a place to look up and remember many good bottles of wine 🙂
What do you do with your leftover wine corks?
xo erin
In the cold harsh Canadian winter- there is nothing better than a cozy beanie to keep your head warm- and as an avid crocheter, I find many crochet hats very inadequate. They can be lovely and pretty with lacy stitches- but often, when it comes down to wearing them out on a cold day- they seem more full of holes – leaving your poor ears exposed.
So I set out to make a warm crochet beanie- and I did it!
This is literally the MOST simple hat you can make- it is all one stitch, and a very simple stitch at that. I also love that it is very elastic, doubles over the ears, and generally very thick and fuzzy.
I used a bulky weight acrylic/wool mix yarn, with a 6.5 size crochet hook, but you could make this hat with anything really (although I would recommend a bulky weight yarn).
TO MAKE THIS HAT:
1. Crochet a Starting Chain– to determine the length of your chain- measure it against your head by holding it at the top of your head where the pom-pom would go, then over the top of your head to where you want it to sit on your forehead- folding it over as much as you want it to be folded over. (For me that was 37 chain stitches, and I wanted a big fold at the bottom).
2. Single Crochet– for your first row single crochet in each of your chain stitches
3. Single Crochet in Back Loop- turn over (chain one), and when you go to do your next single crochet- only put your hook through the back loop, instead of both of the loops as you usually would. Do this for the entire row.
4. Repeat– repeat, repeat, repeat- until you have a rectangle of this ribbed crochet fabric, that is large enough to wrap around your head. I didn't count how many this was, I just kept hold it up to my head a trying to squeeze it around- I also made sure it fit snug, because this stitch will give you a little stretch, so you don't have to worry about making it super oversized.
5. Slip Stitch & Gather– use slip stitches to join your rectangle into a tube. Then you simply gather one end of the tube using a strand or two of your yarn (depending on the strength of the yarn).
6. POM-POM– I was still left with a bit of a hole at the top of my hat so I covered it up with a massive pom-pom (which I would have done whether there was a hole or not!) But I simply made this pom-pom by wrapping my yarn repeatedly around the closest available wine bottle (never further than 2 arm lengths from me), then sliding it off, tying the center together, and cutting the loops- fluffing it up and tying it to the top of the hat. easy-peasy
I have hardly taken this off since I made it- and I have several requests for more hats this Christmas- which is wonderful because I can whip-up one of these gems in the time it takes to watch another Christmas movie!
I would definitely recommend making one of these for a special someone this Christmas- as a perfect last minute gift!
Merry Christmas I hope you are all enjoying your holidays!- and I will be doing more last-minute Christmas posts very soon!
xo erin