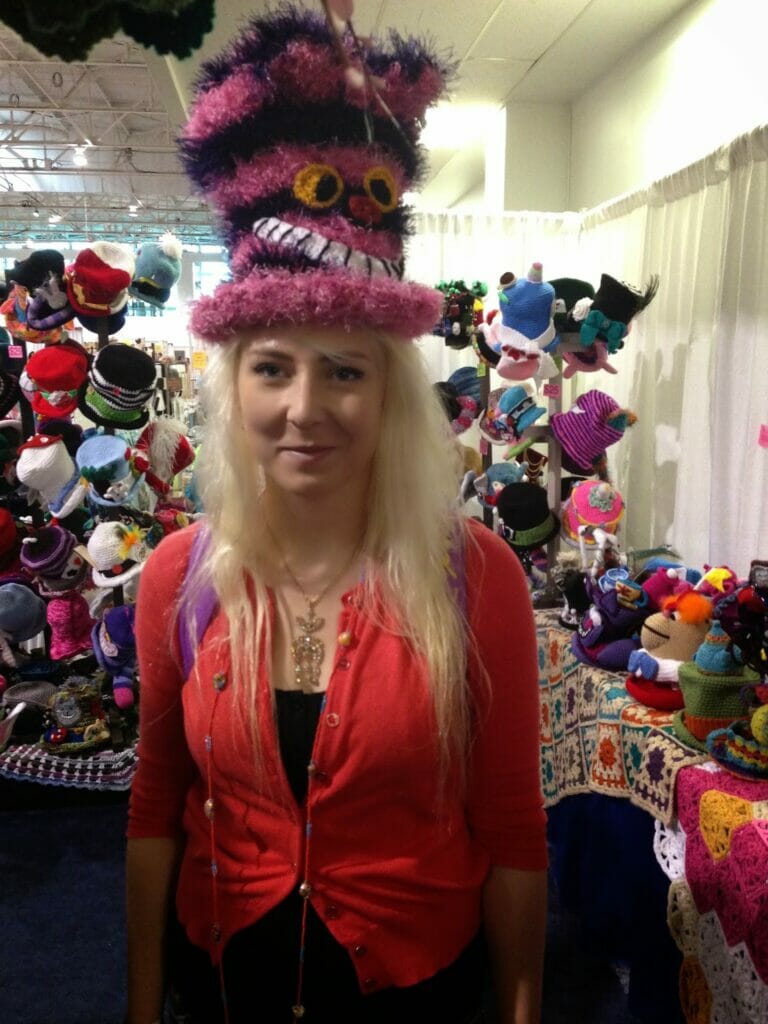 Hi All,
I thought I would share a little bit of what I did this weekend! I had a fun weekend with my sister and friends in Toronto.
First thing on Friday was the Creativ Festival! Where my sister and I met up with my friend Claire. We all had fun looking at mostly the beading and the scrap booking sections. But there were some other interesting things there like this crochet contest they had going on with an 'Alice in Wonderland' theme- my sister modeled this one for me- they were all amazing.
I have to say that I was a little disappointed with the bead selection this time. My sister and I went to the Creativ Festival last fall that is hosted at the MTCC in downtown Toronto and it was a little bigger and more bead focused, but alas, I was able to save a little more of my pocket money! 🙂
The next day our friend Kaitlyn came over and we went to the open house at my sisters school to see her and her classmates art work.
(this is my sister beside one of her interpretive self portraits- it is the very bright and colourful one on the bottom row)
As you can expect from an art school show, there's a lot of good art, a lot of talent and a whole lot of downright weird.
(me and Kaitlyn admiring some portraits)
(some arts students working on a mural)
(some weird stuff)
We rounded that night off with a trip into downtown Toronto to see an indie band play at a bar. It was a cool little place called the Horseshoe Tavern, and it was nice because they had these little benches were you could sit and order pitcher of beer! The headliner was 'Pains of Being Pure at Heart' with the starting bands 'Fear of Men' and 'The Able Body'.
My sister, thoroughly enjoying herself (in the silk top I made)
And here is a little sneak peak of my latest jewelry make inspired by the beads I got this weekend- I'm going to put up a tutorial for this soon!
(sorry for the crappy photobooth pic, this was a bit of an afterthought)
Hope you all had a lovely weekend!!
xo erin
A couple of weekends ago, my sister and I went to the Creativ Festival in Toronto- a convention of sorts for all things creative including: sewing, quilting, beading, knitting/crochet.. etc. As much as I do love all things sewing, I was completely side-tracked by all the shiny beads! (how can you not drool a little looking at this..)
– I also got side-tracked by a huge crochet aquarium display, that included many cute little friends- this one in particular that I will have to make sometime soon!
But as I said before, my sister and I got really carried away and spent most of our day 'ohhing' and 'ahhing' over all the pretty sparkly beads, and we brought quite a number of them home with us – only the ones we couldn't leave behind of course!
There was also a booth where you could buy bracelet kits and make them right there, which we decided was a good option since we had been standing for a few hours at that point.
Despite the terrible quality of this phone pic (sorry)- this was my little beading area while I worked on the kit, I picked a jazzy green number. I had never made a charm-style bracelet like this and I found it really fun and inspiring! So inspiring that as soon as I got home I jumped all over my sister's expansive bead collection and started beading, making some original creations!
The first one I made was the black/gold/silver bracelet (inspired by halloween) and the second was the blue/turquoise/silver one, followed by the chandelier-style necklace for good measure. I made sure to included at least one of my favourite bead purchase from the show into each piece- which I like to call the 'galaxy bead' (the main top circular one on the necklace, shown well below in the bracelet) It is a midnight blue colour with sparkles and it just reminds me so much of a night sky… I'm a little obsessed with them…
Something about this style of jewelry making is so appealing to me, working the metal and making all the little charms to attach- it makes my creative side smile :). I am really looking forward to doing more of this!
After the creative festival Kristie and I went to an art show being held in the same building, that was recommended to her by one of her art profs. We saw some super cool things! Although I can't say that I am the best art connoisseur, and I had my fair share of 'what is that?… I don't get art…' moments, but there were some really cool things to see.
Then – just so we could finish with a bang- we went up the CN tower for dinner, mostly because Kristie, being Canadian for all 24 years of her life, has NEVER been up the CN tower, which is an abomination, and because you get a free lift up the tower if you order an entree in their restaurant, and we needed to eat anyways!
It was so high up! and, as you can see, it was dark by the time we finished dinner and went to the observation deck to take pictures. The whole day was so much fun, so inspiring, and it was also a little colder than we thought it would be- so I also picked up these little hand-friends. (other mitten not shown as it was needed to take the picture)
I think these will keep me good company over the winter :).
Now off to make more jewelry!
xo erin
-also, I suppose I haven't mentioned this before, but all comments are welcome 🙂 !