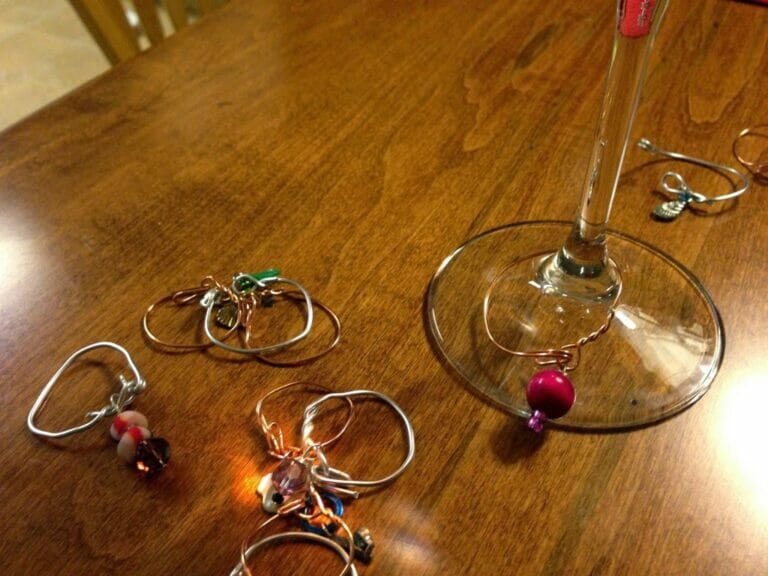 Hi All!
I have a new Tipsy Topic! Trinkets- specifically wine charms!
You know when you're at a nice party drinking wine, and you set your glass down to go to the bathroom, and when you come back there are 2 more wine glasses on the table that could be yours?
Well this will stop all of that nonsense! You can definitely find these in the store- but they are SO easy to make and you can make them so unique!
Basically you just take a thick gage wire, something that's going to hold its shape without being completely unbendable. Then you get a bunch of little beads, charms or anything you want to embellish. Bend your wire into a circle with a hook on one end and a loop on the other, add a charm with a jump ring to the loop end- and make sure you have no sharp edges exposed on the wire!
The best and most important part is that they are all different- you don't have to have a set of every bead- the point and purpose is that they are all different so you can tell which glass is yours- so you can make each one more random and one-of than the next! YAY
Pop these onto each glass as you hand out your drinks at your party – and you don't have to worry about doing twice the dishes as people forget which glass is theirs!
They would also be a great last minute gift or craft to do on Christmas!! And a nice touch for any festive party you throw!
(Me and my sister Kristie drinking our sparking rose while crafting)
And grab your glass of delicious beverage with the confidence that it will be yours and only yours for the rest of the night!
Cheers!
I hope you're not only having a Tipsy Tuesday but a very tipsy holiday too!!!
xo erin
I have been beading obsessed over the holidays- partly since it is one of the only crafty things that I specifically brought home with me, but also because the holidays always seem to draw me toward sparkly and pretty things- let's be honest that is all year round.
So I thought I would share my favs with you- starting with my absolute favourite, which is this spider bracelet:
The only spider that I will allow on my hand, as I am a mild arachnophobe.
It was a little tricky to make- but since I know that the folk of the internet are very crafty, here is how I did it- if you are in a DIY kinda mood-
So first I picked my beads that I wanted for the head and the big bulbous body- I freak myself out thinking about that..
And put them on a headpin, with a little end bead, leaving some space between them to attach the legs, then I cut the headpin to size and folded over the end to secure it.
Then pick out what you want for your legs: try to make them so that they are fine at the tips, then go to a small join, slim again, then a bigger joint bead, then slim down again so that they can attach to the body really close together. Here are three of the legs laid out. – Also they will all be ending in a jump ring so they can attach to the chain around the back.
Then, what I did, was string them all together on a very fine continuous wire. So I started the wire by going through the large body bead (with the loose end sticking out the back to be wrapped around the head pin and then trapped under the body bead to be secured). Then I strung the beads for the first leg- wrapping the wire around the jump ring, then going back through all the beads, leaving the wire back at the headpin, wrapping it around a couple of times before doing the next leg.
I'm very sorry if this is confusing, it was hard to take descriptive pictures, and I feel like I am being a bit long winded with my explanation- but alas, what can you do?
So once you have done all eight legs (OMG why do spiders have to have so many legs) then you are going to want to attach the chains to make it into a bracelet. So you will want to measure your wrist, then measure across your spider- to find out how much chain you will need to make it around the back of your wrist, of course leaving a little extra so that you can comfortable move your hand.
So when you have these measurements- cut three pieces of equal length chain (for each side), attaching all together at one end to a lobster clasp, and conversely on the other side converging to a ring on which you will clasp your lobster clasp… – although you could use any clasp/closure type that you want for this- Then you will connect the other end of those chains to the jump rings at the end of the bottom three legs from one side, doing the same to the other side with the other half of chains.
Then once you have that done, and you secure it around your wrist- you will want to stretch the remaining two front legs up your hand, then measure a length of chain that (with wiggle room) reaches from one leg, around your ring and middle finger and to the other front leg.
You should end up with this:
Make sure that you leave a fair amount of extra chain for the one going around your fingers, because this distance will fluctuate a lot as you open and close your hand- and you don't want to put too much strain on the poor guys arms!
Also- if you have any questions about how to make this or if anything was unclear feel free to ask away!
Meanwhile, as I was toiling away at my little spider friend, my sister was busy at work making gorgeous things like:
and
Though I can claim credit for the one in the middle (that my sister refers to as 'the baby blanket bracelet').
I also made these earrings, inspired by New Year's fireworks
Overall I would say that it was a very productive afternoon of beading!!
Hope you all had creative holidays and that you are finding ways of keeping creative in the busy New Year!!
xo erin
A couple of weekends ago, my sister and I went to the Creativ Festival in Toronto- a convention of sorts for all things creative including: sewing, quilting, beading, knitting/crochet.. etc. As much as I do love all things sewing, I was completely side-tracked by all the shiny beads! (how can you not drool a little looking at this..)
– I also got side-tracked by a huge crochet aquarium display, that included many cute little friends- this one in particular that I will have to make sometime soon!
But as I said before, my sister and I got really carried away and spent most of our day 'ohhing' and 'ahhing' over all the pretty sparkly beads, and we brought quite a number of them home with us – only the ones we couldn't leave behind of course!
There was also a booth where you could buy bracelet kits and make them right there, which we decided was a good option since we had been standing for a few hours at that point.
Despite the terrible quality of this phone pic (sorry)- this was my little beading area while I worked on the kit, I picked a jazzy green number. I had never made a charm-style bracelet like this and I found it really fun and inspiring! So inspiring that as soon as I got home I jumped all over my sister's expansive bead collection and started beading, making some original creations!
The first one I made was the black/gold/silver bracelet (inspired by halloween) and the second was the blue/turquoise/silver one, followed by the chandelier-style necklace for good measure. I made sure to included at least one of my favourite bead purchase from the show into each piece- which I like to call the 'galaxy bead' (the main top circular one on the necklace, shown well below in the bracelet) It is a midnight blue colour with sparkles and it just reminds me so much of a night sky… I'm a little obsessed with them…
Something about this style of jewelry making is so appealing to me, working the metal and making all the little charms to attach- it makes my creative side smile :). I am really looking forward to doing more of this!
After the creative festival Kristie and I went to an art show being held in the same building, that was recommended to her by one of her art profs. We saw some super cool things! Although I can't say that I am the best art connoisseur, and I had my fair share of 'what is that?… I don't get art…' moments, but there were some really cool things to see.
Then – just so we could finish with a bang- we went up the CN tower for dinner, mostly because Kristie, being Canadian for all 24 years of her life, has NEVER been up the CN tower, which is an abomination, and because you get a free lift up the tower if you order an entree in their restaurant, and we needed to eat anyways!
It was so high up! and, as you can see, it was dark by the time we finished dinner and went to the observation deck to take pictures. The whole day was so much fun, so inspiring, and it was also a little colder than we thought it would be- so I also picked up these little hand-friends. (other mitten not shown as it was needed to take the picture)
I think these will keep me good company over the winter :).
Now off to make more jewelry!
xo erin
-also, I suppose I haven't mentioned this before, but all comments are welcome 🙂 !