Hi All!!
For those of you who are new to my challenge here's info about: Joining the Challenge, Joining the Pinterest and Flickr Group and Grabbing a button from the challenge.
Week 1 of Bra-A-Week!! YAY!! I've been busy sewing- and I thought I would start the challenge off with a bang and make a matching bra and pantie set!
I call this my Coral Keyhole Bra! obviously because of the colour and the keyhole in the bridge!!
And it fits like a glove! (although I am not quite brave enough to post a picture of myself in the undies too- maybe when they're not quite so sheer! lol)
I used a coral non-stretch lace fabric lined with coral 15 denier for the cups, bridge, the front section of the back band and the front panel of the panties.
Peach powernet for the back band, and the back panel of the panties
Peach 3/8″ fold over elastic for all the elastics on the bra and panties
and 3/8″ gold sliders and rings to adjust the back!
The pattern was a self-drafted pattern. I used Beverly's method for bra drafting, making any of the fitting and style adjustments I needed, and taking off the seam allowances so I could use the fold over elastic.
The panties were also self-drafted from Beverly's method in her Make & Fit Panties book. I adjusted them to make a front side seam, so that the back was all one piece of powernet and the front panel could be the lace. I wanted them to be a very vintage style with a high waist and full coverage 🙂
I really wanted to try a bunch of new techniques on this bra- so it has a lot of features! It has:
-A partial band, meaning there is no band running under the cups
-A keyhole bridge, that little hole in the bridge
-A horizontal seamed cup: meaning the main seam runs horizontal across the bust from wireline to wireline (a lot of classic bra styles have a diagonal seam running from the underarm to the wireline)
-A split bottom cup that is bowed to help the breast fall into the cup and look more round
– Lace fabric, lined with 15 denier, a sheer cup-lining fabric, and fold over elastic all over
– Back strap extensions- meaning that the back band is set higher where the strap starts so that your straps don't fall off your shoulders!
I'm so happy with this set! and I love how the coral and the peach blended so well together. It looks all peach from the back.
This is the first matching bra and panties set I've ever had! I know I'll feel so special wearing it! 🙂
Apart from my first success in this challenge I have had SO MANY AMAZING SUBMISSIONS!
I'm so excited to share them here!!
———–
First up is Mary Goettelmann's NYE bra!
She made it with sequin and glitter tulle lined with black nylon tricot!! WOW!
It is the Anne's Bra Elite pattern, that she had fitted to her in Anne St. Claire's course in Maryland.
She even reinforced and embellished the straps with a gorgeous black and silver chain!
Amazing job Mary!
geomar99 (at) gmail (dot) com
————-
Next is a super cute Watson bra from Michelle Noble from Michelle's Creations
She made this bra from the super trendy Watson Bra pattern from  Cloth Habit – I've been seeing this bra all over- it's pretty cute!
She made the short-line version with a spandex knit from Merckwaerdigh (AMAZING PRINT!) and findings from Bra-maker's Supply
Love it!!!
—————–
Next we have 'Midnight', a gorgeous bra from Karin of Mrs. Weavers Finest Unmentionables
She made this gorgeous cut&sew foam bra, covered in midnight blue sequinned stretch lace.
With wide straps for a lovely 50's feel! and can I say an amazing fit! it looks fantastic and so supportive 🙂
————–
Next is a bra from a delightful french man named Joël Vincent
He sent me a ton of gorgeous pictures of lingerie that be makes for his wife and I thought I would share this set this week.
The bra is made from the Bra-maker's Supply Shelley Pattern and the panties are a very heavily modified version of the Betty Ohh Lulu pattern.
What a lucky wife! oh and he also said to mention that he was beautiful, rich and a fantastic lover – but of course, he is french! 🙂
petijibus (at) gmail (dot) com
—————-
Next is a bra repair from Janet Cox
Janet has been struggling with some carpal tunnel and decided that a bra- repair job on an old bra-make that has been sitting in the project pile for 2 years was a better idea than making a whole new one.
She fixed the shoulder strap elastic and now it's good as new! It's always great to have old favourites back!
—————
Wow another stunning Watson! This one is made out of white stretch lace, lined with micro mesh. And a really fresh addition of orange elastics.
She also upped the comfort level by cutting the back on a fold to make it a pull-over style – simple and pretty 🙂
———–
It's made from an ivory powernet. This one is for display, but she also made one in her size and said it fits amazingly!
————-
And finally I have a lovely lacy bra from David Pólrolniczak
This bra is a foam cup, with red tulle lace and powder pink cotton lining. With cute little red hearts on black for the back band!
David is a freelance lingerie designer, label: Bonnet Blue
dpolrolniczak (at) wp (dot) pl
——————–
Thanks again for so many GORGEOUS submissions! I can't wait to see what you all make next week! I'll definitely have to start working on these posts sooner and add the submissions as I get them!
Until next Sunday!! Happy Sewing
xo erin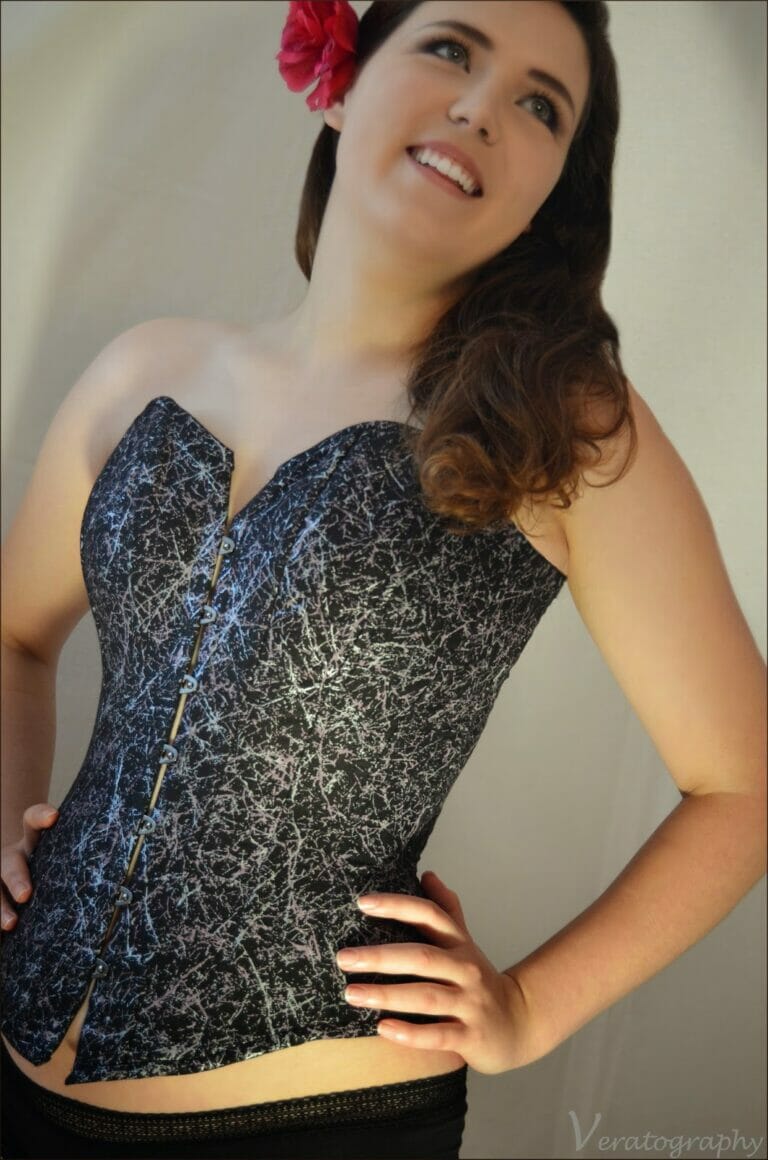 Hi All!
So the big reveal! My corset!
Isn't she amazing! What I love about her work is that it really highlights your natural body, – she isn't going to photoshop you to look 20 lbs lighter, she isn't going to make you into something unrealistic and unachievable, she is just going to make you look realistically and healthily amazing! Not to mention artistic and beautiful!
The picture of my back and the lacings above is a good example- everybody gets a fold down their back when they wear a cinched corset- that is just what your skin does when you tighten it, and it would be such a lie and perpetuating false images to photoshop it out, and why? the natural body is so beautiful!
(Her gorgeous digital business card!)
I jumped the gun a little on this post since I've only gotten those two photos back from her but I thought I would include this pic too- a fitting room selfie- and I think it shows even more from this angle the true cinching power and silhouette of this corset!
I am SO pleased with this corset and it is surprisingly comfortable- It really makes a difference when a corset is made specifically for your body (which in my case is fairly long-waisted)- I don't think I could wear it for an 8 hour day or eat very much in it- but it is really cool for pictures or for a night out!
I think I might just have to make another one! Maybe an under-bust for my second one- what do you think?
Have you done any corset making? what did you think?
I found that it was much easier than I thought it would be, and that it is more comfortable than I would have ever expected! so I would say that this was a really successful experience!
If you didn't already read my last post about making this corset- you can read all about it here!
xo erin
Hi All!
I have something really exciting to show you! I've been sitting in on more classes at Bra-maker's Supply lately and one of them was a corset making class!!
Here I am tracing out my pattern pieces 🙂
Of course I'm using the Pin-Up Girls Pattern- Beverly really has the most beautiful corset pattern, it gives such an amazing silhouette! They are designed to give you a 2″ waist reduction, but after talking about the different amounts that you can cinch, I decided it would be fun and draft it down to a 4″ waist reduction instead! Apparently 6″ is still comfortable, but as I am a person who lives most of their life in stretch t-shirts I was a little dubious about that…
I decided that I wanted to go for the 'Full Coverage View' rather than just the under-bust corset.
And I picked this fabric- that was amazingly on sale for $5/yard in the housewear's section of a fabric shop two doors down from Bra-makers Supply! Also I got some heavy black twill for my lining fabric, which will be the real foundation of my corset- and will actual be holding me in! The lining fabric is the more important fabric, that will support the whole corset, the fashion fabric overtop can really be anything.
It's important to note here that fabric selection is SO important for your corset! Mainly it's important that you pick a fabric that has no print, or a very small print. Since the corset is 6 pattern pieces on each side of the body a big print will get all chopped up into tiny pieces – I chose this one because I thought it would blend all together after I sewed it up!
Then the first step, once you have all your pieces cut out (and labeled! they are all long funny shapes and you will never remember what order to put them in!) You put in your busk, which you sew into the center front seam between the lining and the outside fabric.
The busk is traditional on a corset, and closes it up in the front, so that your laces don't have to be two miles long for your to get it over your body only 5 meters long lol!
One side has the little hole-hook things
And the other side has these pegs.
And they go together easy-peasy like this!
Once you have your busk in your frontmost panel, then it's just a matter of sewing all the panels together in the right order
Then on to the bones! Which are much less scary than you would think! We learned about all the different bones and I actually decided to use three different types of bones in my corset!
Over the two bust seams (that curve) I decided to use spiral steel bones (which look like a flattened steel slinky) and they are the premium corset bones- they are flexible in all directions, and bend around curves very well without flattening or being inflexible.
I used spring steel bones on either side of my back grommets – which are flat solid pieces of steel, they are not at all flexible side to side, and would be perfect to keep my back corset edge straight and take the strain off the grommets.
And lastly I used regular plastic bones for the rest of the corset, because they work fine and are a much more economical choice!
So on a corset generally you put, at minimum, a bone over every seam (which would be 6 bones on each side – plus the ones for either side of the grommets. But I decided that I would be much more structured and intense and put a bone between each seam too.
If you like sewing straight lines on woven fabrics- you will love corset making! For the seams you sew the bone casing to the seam allowance, then you fold it over and stitch the other side down. And the ones in between I found it was best to mark with chalk where you want them to go and just lay them down as you sew following the line.
All the bone casings in! Miles of boning! Actually about 8 meters :P, with 12 bones on each side!!
And let's not forget the grommets! In the class Beverly has an amazing grommet press- no hammering, this made it SO easy, no real effort required! And they are the lovely 2 piece grommets that are really nice and smooth against your skin on the backside, rather than eyelets that are one pieces and have sharp edges that clamp the fabric on the underside.
Don't those grommets look so slick!
And you can see that I chose a lacing style called "Rabbit Ears", what that means is that there are two grommets placed closer together right at the waist of the corset, and laces come out from one and go down and back into the other hole below instead of crossing over to the other side to continue the lace.
What this does is leaves these 'rabbit ears' where you can pull the corset in from these ears at the waist, and lace your corset yourself, rather than awkwardly trying to lace it from the bottom or top, or having to be laced in by another person!
The last step to corset making (after you've tried it on to make sure it fits) is making sure all your bones are the right length and doing a binding edge top and bottom!! You can use a store bought bias binding or you can make your own out of the fabric of your corset which is what I did- and I used a 3/8″ binding 🙂
Look at how neat and tidy that is! Super simple, and you could always do it in a contrasting colour!
I can't wait to show you guys what it looks like on- is it ever a waist-cincher! But you'll see that in my post tomorrow! I didn't want to over crowd this post and I wanted to show you some photos that my photographer friend took of me in the corset! SO EXCITING!
I think I have found a new love of corset making- at first I was a little unsure if it was really my thing, since I didn't really know when I would wear one, and I'm so used to working with small curved seams on knit fabrics- but I'm so glad that I tried! And seriously, once you see yourself in a corset- there's really no wonder why people love them!
Until tomorrow and the big reveal!
xo erin