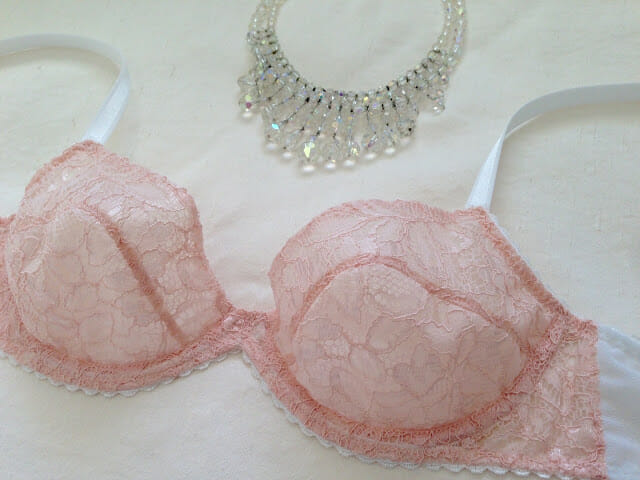 Hi All!
Week 4 is here and with it comes another bra 🙂 My second bra-make of the year!
I love this bra, and I wanted to show a few new ideas and techniques with this bra 🙂 And also to announce the theme for next month…. LACE!! 🙂
This bra is again the new France wire 🙂 I wanted to show another style that works for this wire, and in this case I made a demi cup bra, as you can see it's quite low, great for very scooping necklines and low-cut tops 🙂 very subtly sexy in the blush pink lace!
To make this demi cup bra I placed my straps a little wider, and lower than usual, and cut the neckline really low. Then instead of having a vertical seam like my last bra, I wanted to have a more horizontal seam (both ends of the seams ending in the wireline) but because this wire sits very low on me, they don't hit across the horizontal- but a little bit lower. Which I think is a little more dynamic and pretty!
I also thought I'd do a gothic arch at the centre front to add to the light and dainty look of this lace bra 🙂
I lined this lace with a layer of bra tulle to keep the super-sheer look! *gets out the nipple covers again*
The other exciting news about this is…. I finally have lace kits up in my Etsy shop!! YAY
And here is the lace kit that I used to make this weeks bra!
Next week is the final week in January, meaning it's all about you and your beautiful submissions! so make sure that you send me all your photos and links for that post!!! (deadline is this Friday!)
How is everyone feeling about February as 'Lace Month'? I thought it would be very seasonally appropriate with Valentine's day!
What would you like to know about lace or working with lace for my theory post?
Let me know what you think!!
xo
erin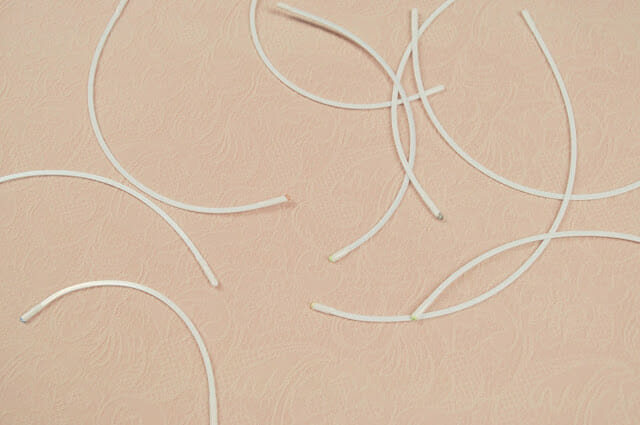 Hi All!
I wanted to share with you my new favourite lingerie supply. The France Wire 🙂
This is a new style of underwire that has a different shape and fit from the other underwire that I carry, and it's all part of my goal to make bra-making more accessible for everyone 🙂 because we all have different needs.
This underwire actually came about from a friend of mine, who was complaining that she doesn't fit regular underwires, the round or the bliss. She said that they were too deep, and she needed something more shallow and splayed to fit her comfortably.
So after a little sourcing, fit testing and experimentation, I found these wires 🙂
You can see right away that these are quite a different shape from my other wires, they are much more splayed and shallow. I would say that these are almost the opposite of the Bliss wire (which are deep and narrow).
So along with that idea, I think that these wires are generally ideal for smaller cup sizes, especially people who find that they have a more average sized rib cage and band, but smaller cups, where you find that the underwire always feels too small and narrow.
That's not to say that it is limited to only these body types though. I find that this wire has a lot of potential for many shapes. And is great for lighter lingerie, and bra styles that don't require as much coverage under the arm, because these wires are shorter at the underarm edge.
Here is an example of a bra with a France wire:
As you can see, this bra is lower on the underarm edge, with a medium height in the front, giving a really nice and relaxed fit, which I find is really comfortable, and pretty sexy too 🙂
They are currently available in sizes 30-46
So far I find that sizing is quite similar for these wires to the other style of wires. For example I comfortably wear a 38 in both the France and the Bliss wires.
What style of underwire do you like?
Do you think he France wire would work for you?
xo erin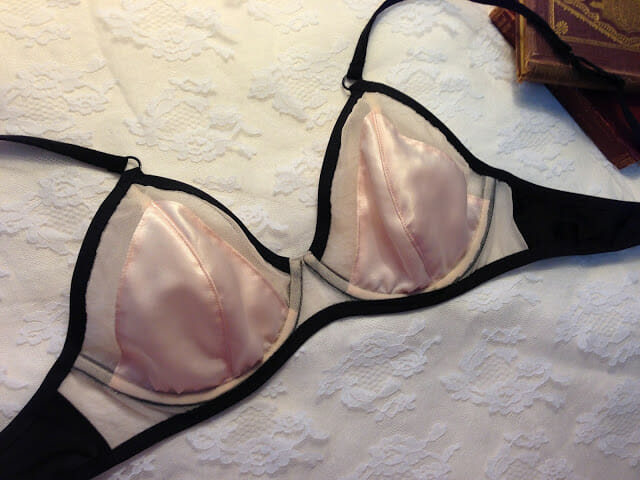 Hi All,
It's the second week of the Bra-A-Week Challenge! And it's all starting with a bra-make 🙂 I'm pretty happy with this one too!
This one is a special bra, because I branched out and did something new with a new style of wires!!! Yes more wire theory!!
I even made a mock-up for this one to test the fit and the shape 🙂 As you can see, the main feature of this bra is the new wire, which is probably the opposite of a Bliss wire, I call it my France wire 🙂
This wire is MUCH more splayed, and shorter, especially under the arm. I like to think of it as a very relaxed wire. And the important thing- how does it fit?
Lovely! Now before I go too far into describing this wire, the fit and the body types that I feel would benefit from this wire, I will stop myself, because I'm going to be doing a mid-week post on this to launch this wire in my Etsy shop! 🙂
So a little more about this bra- I made this using the new France wires, blush bra tulle, some of the most beautiful and delicate blush silk satin, and black fold over elastic. I love the combination of these fabrics, with the vertical seam for simplicity, and the sheer edges to make it almost look like it's floating 🙂 dreamy
I've never worked with silk before in a bra, and although it is a little more difficult to work with (it's a slippery bugger!) and it will never lie quite as perfectly smoothly as the tulle or knits do, I was super impressed with the overall finish of this bra- I just think it is SO luxurious, I'm already dreaming of the little silk tap-pants that I'm going to make to go with it, and imagining that I might one day wear it, while reclining on a chaise lounger, drinking, champagne, eating strawberries dipped in chocolate, being the most luxurious person in the world….. well at least I'll have this set lol
Beyond being the most chic little thing that I currently own, it is also amazingly comfortable, and although it will not be an everyday garment *read: washing silk scares me* It will definitely be chosen on special days 🙂
What do you think about this style of bra? have you also been looking for wires and a fit like this?
How do you feel about silk in bra-making? I think I'm a convert!
Hope you're all having a fantastic Sunday 🙂
xo erin