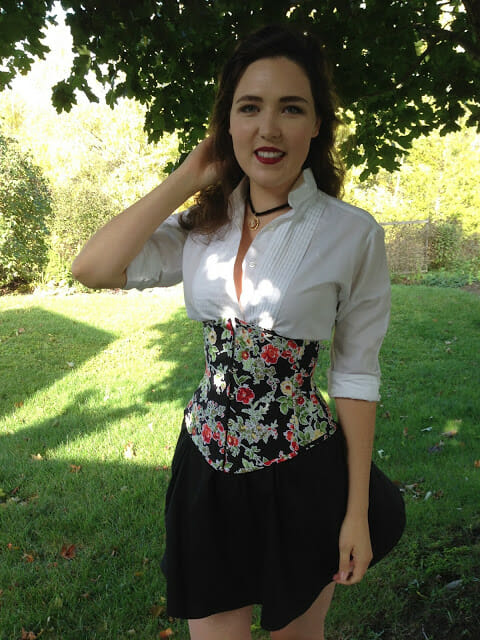 Hi All!
It's the second week of Corset October! YAY! And I've got another corset for you!
This one is the same pattern as last weeks, the Freedom Corset pattern from Pin-Up Girls in size D graded to C at the waist, but this is the under-bust version.
To make this I used corset twill as a lining and a silky rayon as the outer fashion fabric.
Because you're not supposed to use lightweight fabrics for the outside of a corset, I used a double sided adhesive interfacing (Wonder Under) to fix it to the lining- which turned out a little heavier than I would have liked, I think in the future I would just keep them as separate layers and use an interfacing on the rayon, then I could also do the 'stitch and flip' method of making a case for my boning, rather than sewing bone channels onto my seam allowances, which I'm finding to be a little bulky.
Overall I'm totally obsessed with this corset! I love it!! This fabric is also quite special to me, because it was the last remain scrap of my 'signature fabric' that I used for a fashion show in university! It was the perfect use!
And of course it's Gibby approved! I can't wait to wear this in Calgary!!
I'm so excited to get working on more corsets!! My next two corsets will be patterns from the lovely Scarlett 🙂
And I have more exciting news! Scarlett most kindly offered a discount code for all of you, my lovely readers!!
If you use the code ERINOCT you can get 30% OFF her patterns and her course!! Thanks Scarlett!!
Now on to your lovely makes from this week!
———————————————————-
First we have a pretty pink bra from David of Bonnet Bleu 
David made this using foam cups, a pretty satin fabric and two types of lace, all in this gorgeous pink colour! It made a really dynamic neckline, and I love the simple detail of the bow!
dpolrolniczak (at) wp (dot) pl
—————————————————————
Next we have a lovely bra from Christie!
Christie made this bra using a beautiful black and red stretch lace over denier and powernet. Love that lace edge!
Christie made this with an internal powerbar for some good lift and a re-draft on the neckline to make it a balconette style! Her favourite so far- and I can see why! Gorgeous!
——————————————————–
Next we have a pretty set from Emma  of A Hand Stitched Life!
Emma made this set using the Cloth Habit Watson Pattern with the matching briefs pattern for the bottoms. How beautiful is this!
Emma made this set using stretch lace, and said it's one of the most comfortable that she owns- that's definitely a win!!
If you want to know more about this gorgeous set, make sure to check out Emma's post over on her blog!
——————————————————–
Next we're moving in to an October corset from Sofia of Silver Lining Atelier!
Sofia made this corset using the free corset belt pattern from Scarlett, using cotton twill lining, heavy black cotton and upholstery fabric for the exterior- super classy and wearable!
This was Sofia's first corset – and wow what a hit! I think she's got the same corset bug that I have too! It looks so pretty and simple over that dress too!
Make sure you head over to Sofia's blog to read more about her gorgeous corset!
———————————————————————-
Last but not least we have another gorgeous October corset from Karin of Mrs.Weaver's Finest!
This is Karin's 'Italian Job' corset- made from beautiful Italian checked fabric, some beautiful ribbon detailing, and a whole lot of time and dedication to matching stripes! And it really paid off- this is quite a stunner!
Karin used the Freedom Corset pattern for this corset, along with some modifications for taste and fit! Absolutely gorgeous!
Make sure you head over to Karin's blog to read all about the Italian Job!
————————————————————-
I never cease to be amazed by all your talent- what a fantastic group of people we have here in our bra family!
Don't forget to check out the Pinterest board and if you're on Instagram and posting your lovely makes- don't forget to add in #braaweek or #corsetoctober  !!
You can go here to grab a challenge button and don't forget to send your bra for next week to [email protected] by Friday for the next Sunday post!!
Wow, I really don't think I could have asked for more this month! This is truly amazing and there is still so much to come!
Can't wait to see everything you send me for next week!
xo
erin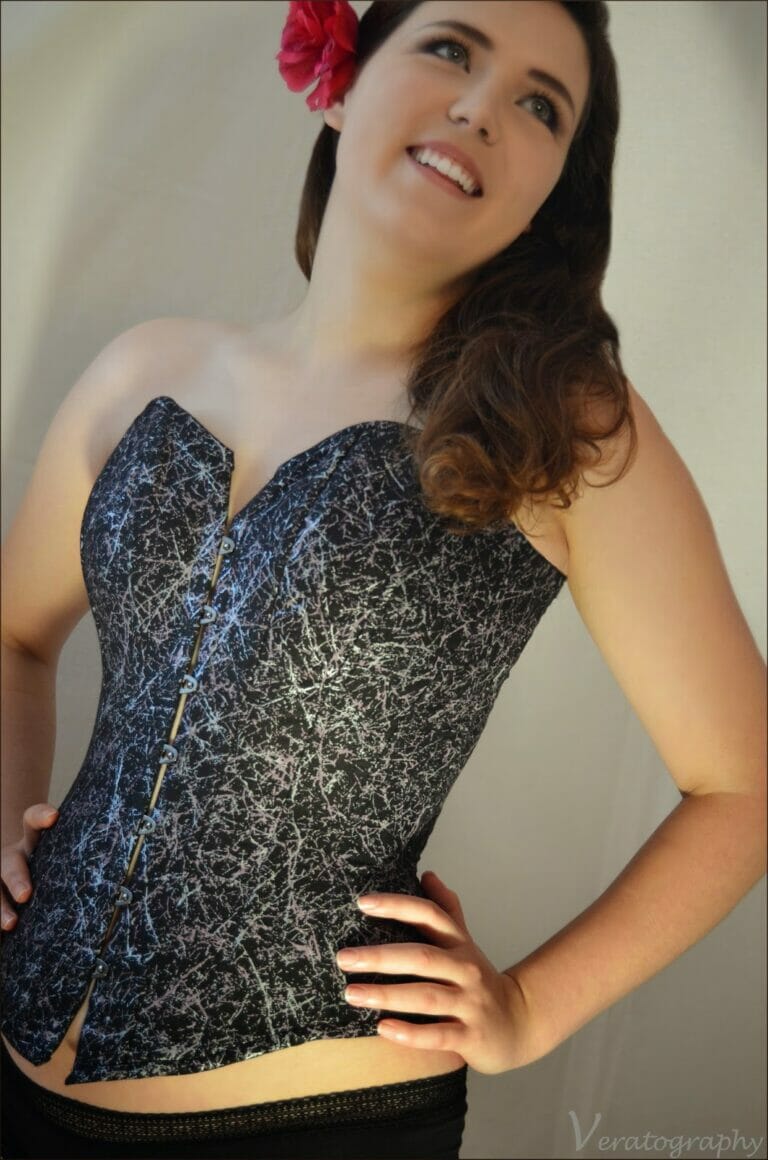 Hi All!
So the big reveal! My corset!
Isn't she amazing! What I love about her work is that it really highlights your natural body, – she isn't going to photoshop you to look 20 lbs lighter, she isn't going to make you into something unrealistic and unachievable, she is just going to make you look realistically and healthily amazing! Not to mention artistic and beautiful!
The picture of my back and the lacings above is a good example- everybody gets a fold down their back when they wear a cinched corset- that is just what your skin does when you tighten it, and it would be such a lie and perpetuating false images to photoshop it out, and why? the natural body is so beautiful!
(Her gorgeous digital business card!)
I jumped the gun a little on this post since I've only gotten those two photos back from her but I thought I would include this pic too- a fitting room selfie- and I think it shows even more from this angle the true cinching power and silhouette of this corset!
I am SO pleased with this corset and it is surprisingly comfortable- It really makes a difference when a corset is made specifically for your body (which in my case is fairly long-waisted)- I don't think I could wear it for an 8 hour day or eat very much in it- but it is really cool for pictures or for a night out!
I think I might just have to make another one! Maybe an under-bust for my second one- what do you think?
Have you done any corset making? what did you think?
I found that it was much easier than I thought it would be, and that it is more comfortable than I would have ever expected! so I would say that this was a really successful experience!
If you didn't already read my last post about making this corset- you can read all about it here!
xo erin
Hi All!
I have something really exciting to show you! I've been sitting in on more classes at Bra-maker's Supply lately and one of them was a corset making class!!
Here I am tracing out my pattern pieces 🙂
Of course I'm using the Pin-Up Girls Pattern- Beverly really has the most beautiful corset pattern, it gives such an amazing silhouette! They are designed to give you a 2″ waist reduction, but after talking about the different amounts that you can cinch, I decided it would be fun and draft it down to a 4″ waist reduction instead! Apparently 6″ is still comfortable, but as I am a person who lives most of their life in stretch t-shirts I was a little dubious about that…
I decided that I wanted to go for the 'Full Coverage View' rather than just the under-bust corset.
And I picked this fabric- that was amazingly on sale for $5/yard in the housewear's section of a fabric shop two doors down from Bra-makers Supply! Also I got some heavy black twill for my lining fabric, which will be the real foundation of my corset- and will actual be holding me in! The lining fabric is the more important fabric, that will support the whole corset, the fashion fabric overtop can really be anything.
It's important to note here that fabric selection is SO important for your corset! Mainly it's important that you pick a fabric that has no print, or a very small print. Since the corset is 6 pattern pieces on each side of the body a big print will get all chopped up into tiny pieces – I chose this one because I thought it would blend all together after I sewed it up!
Then the first step, once you have all your pieces cut out (and labeled! they are all long funny shapes and you will never remember what order to put them in!) You put in your busk, which you sew into the center front seam between the lining and the outside fabric.
The busk is traditional on a corset, and closes it up in the front, so that your laces don't have to be two miles long for your to get it over your body only 5 meters long lol!
One side has the little hole-hook things
And the other side has these pegs.
And they go together easy-peasy like this!
Once you have your busk in your frontmost panel, then it's just a matter of sewing all the panels together in the right order
Then on to the bones! Which are much less scary than you would think! We learned about all the different bones and I actually decided to use three different types of bones in my corset!
Over the two bust seams (that curve) I decided to use spiral steel bones (which look like a flattened steel slinky) and they are the premium corset bones- they are flexible in all directions, and bend around curves very well without flattening or being inflexible.
I used spring steel bones on either side of my back grommets – which are flat solid pieces of steel, they are not at all flexible side to side, and would be perfect to keep my back corset edge straight and take the strain off the grommets.
And lastly I used regular plastic bones for the rest of the corset, because they work fine and are a much more economical choice!
So on a corset generally you put, at minimum, a bone over every seam (which would be 6 bones on each side – plus the ones for either side of the grommets. But I decided that I would be much more structured and intense and put a bone between each seam too.
If you like sewing straight lines on woven fabrics- you will love corset making! For the seams you sew the bone casing to the seam allowance, then you fold it over and stitch the other side down. And the ones in between I found it was best to mark with chalk where you want them to go and just lay them down as you sew following the line.
All the bone casings in! Miles of boning! Actually about 8 meters :P, with 12 bones on each side!!
And let's not forget the grommets! In the class Beverly has an amazing grommet press- no hammering, this made it SO easy, no real effort required! And they are the lovely 2 piece grommets that are really nice and smooth against your skin on the backside, rather than eyelets that are one pieces and have sharp edges that clamp the fabric on the underside.
Don't those grommets look so slick!
And you can see that I chose a lacing style called "Rabbit Ears", what that means is that there are two grommets placed closer together right at the waist of the corset, and laces come out from one and go down and back into the other hole below instead of crossing over to the other side to continue the lace.
What this does is leaves these 'rabbit ears' where you can pull the corset in from these ears at the waist, and lace your corset yourself, rather than awkwardly trying to lace it from the bottom or top, or having to be laced in by another person!
The last step to corset making (after you've tried it on to make sure it fits) is making sure all your bones are the right length and doing a binding edge top and bottom!! You can use a store bought bias binding or you can make your own out of the fabric of your corset which is what I did- and I used a 3/8″ binding 🙂
Look at how neat and tidy that is! Super simple, and you could always do it in a contrasting colour!
I can't wait to show you guys what it looks like on- is it ever a waist-cincher! But you'll see that in my post tomorrow! I didn't want to over crowd this post and I wanted to show you some photos that my photographer friend took of me in the corset! SO EXCITING!
I think I have found a new love of corset making- at first I was a little unsure if it was really my thing, since I didn't really know when I would wear one, and I'm so used to working with small curved seams on knit fabrics- but I'm so glad that I tried! And seriously, once you see yourself in a corset- there's really no wonder why people love them!
Until tomorrow and the big reveal!
xo erin