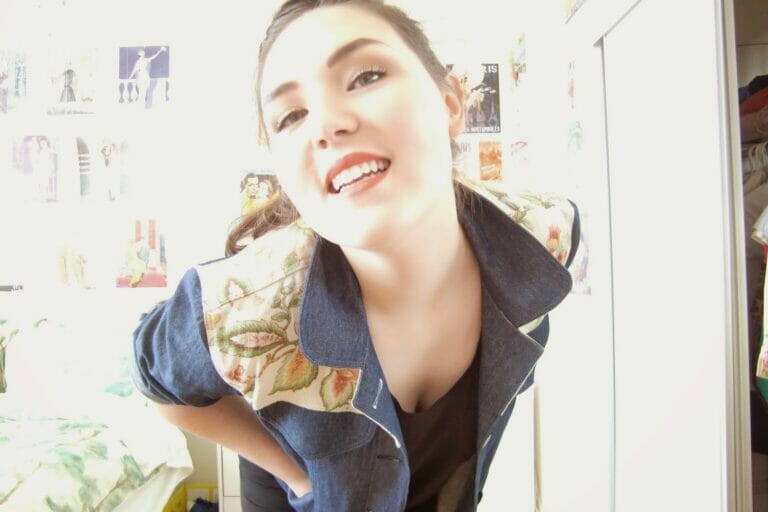 Hi All!!
Finally it's here!! I have completed my Islander Sewing System jacket!! And I love it!
If you didn't read my post before about me making this jacket- then all you need to know is that my mom bought me a course on Craftsy.com taught by Janet Pray (the woman behind the Islander Sewing System) who teaches you how to achieve industry sewing techniques at home through making her 'Jacket Express'. I absolutely loved this course- Janet is such a great teacher and I learned so many tips and tricks- I can't wait to dig out all my jacket patterns and apply everything I learned!
Anyways without further delay, here is my jacket!
The Front- all buttoned up!
Is my hair ever getting long….
When I'm feeling like a bad-ass and poppin' my collar, lol
But when I'm not feeling so bad-ass I just smile big and pretend I'm a bird flying..
I kinda fell in love with the yoke fabric I picked, I was a little unsure about it when it was under construction, but I'm totally into it now- and the silver buttons I chose.
And the inside is so NICE and finished looking!! AHH- no lining but so finished looking!!! <3
If you're wondering how I'm getting such glamourous pictures, it would be because of this super professional set up here:
I don't call this unprofessional- I call it resourceful.
More importantly!! The details- because this is one of those projects that is so well made that you don't mind taking close-ups of the top stitching and things!!
Check out my topstitching!! a needle-width away from the edge, then 1/4″ away- for the most RTW look! I used black thread for my topstitching and a fairly short stitch length, and I like the effect! (I used a cream colour topstitching on the yoke as you can see)
I also mastered welt pockets, they look really good but I put them in so the welt is on the wrong side… which was an artistic decision…
Now on to the inside- look how finished it is! I finished the edges with my serger and grey thread and it blends in almost invisibly! What I love most about this jacket is that it feels so sturdy- I'm not afraid to throw it in the washer and dryer or really be rough on it!
As you can see I did the interior cuff in the same printed fabric as the yoke! Just for a nice little detail. Which looks nice if you want to roll the sleeves up- which I always do. Although I realize I rolled them up further for the pics.
The back yoke all finished with the burrito method!
And this is the project where I tackled my fear of buttonholes! I have an old machine so there aren't all the special features for button holes, and I didn't have one of those special button hole feet here either because I think it is at home- so I managed to do these with just my regular foot.
These ones were my practice ones to get the hang of it- and I think I did a pretty good job on the finished project- with all 6 buttons (4 on the front and 1 for each cuff)!
By the end my fear was conquered!! I will never avoid a pattern again because it has buttons! Also I can say much of my success with this can be attributed to this youtube video: How to Sew a Buttonhole with an Old Machine, SO HELPFUL OMG! I used their method exact and it was perfect every time!!
I am really looking forward to wearing this in the spring (why must it still be -7 out?) and even more excited to make another jacket for myself!! 🙂
If you have any questions/ comments please leave them below!!
– Now back to the sewing machine!!
xo erin
Hi All,
So I have been a little MIA here this week, and I do apologize- I have been sick (as you know from my post on Hot Toddies), and I have just been feeling very uncreative and miserable- and not really into posting about it. I have been feeling a little better the last couple of days though, and I felt well enough to start up a new sewing project!
This is one that I'm really excited about- around Christmas my mom bought me a craftsy course 'Sew Better, Sew Faster' with Janet Prey who is the woman behind the Islander Sewing System, which is basically all about bringing industry techniques to home sewing- giving you the edge to sew faster and make more professional looking clothes.
So in this course Janet teaches you all her industry techniques and tips through the process of making her jacket, which they send you a pattern for in the mail. And I have been sitting on my pattern for about a month now and I figured it was time to crack it open. I absolutely love the course so far, Janet is a really great instructor, very down-to-earth, and I really like the pattern it is a pretty classic style denim jacket.
Because I didn't know if I would want to make this pattern in another size, I traced out my size (small) onto tracing paper rather than cutting it out of tissue it came on and then went on to cut out all the pieces and OH MY are there a lot of pieces, 19 pattern pieces to be precise – she calls this pattern the 'Jacket Express' but I can tell you it took more than a couple hours to trace and cut all of this out!
As you can see I had to add 2 1/2 inches to the 3 piece sleeve.
I opted to make my jacket out of this denim and, just to be fancy, I decided to do the front and back yoke out of this patterned cotton chintz.
I have started sewing it up- but I'm not going to show you all until it's done 🙂 Instead what I'm going to do is show you what I have been sewing on- from the home headquarter sewing room!!
The industrial Bernina, this is the machine that my grandmother sewed on when she had her sewing shoppe- it was her pride and joy, and now it is what my mom sews on. I haven't used it much before making this jacket- but there really is a difference! You can just feel the extra power in this machine- the purr of the motor, the big foot pedal and the knee-control foot-lift so you can have both hands on your fabric when you turn corners! I love it.
And it has really been great for all the topstitching involved in this jacket – it goes through multiple layers of this denim like a breeze!
But that is my progress on the jacket so far- I will be sure to update you all as soon as it is finished, which should be soon since I am sewing faster from this course!
Hope you all are having a swell Saturday!
xo erin