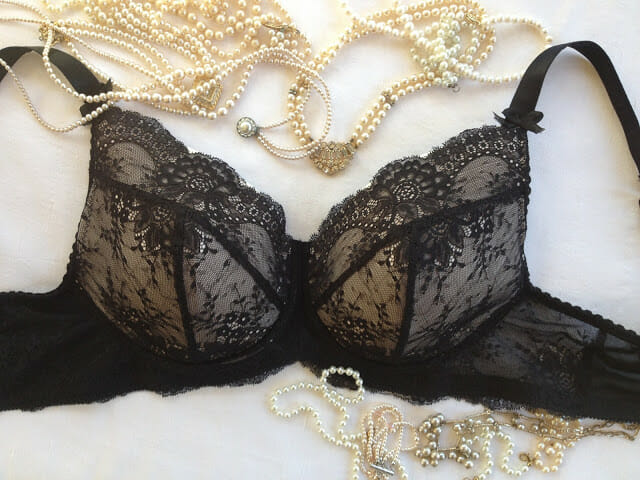 Hi All!
This week I have something extra special for you! I have a mastectomy bra!
When I was in Calgary collaborating with my friend Karin (of Mrs.Weaver's Finest), we did a fitting on a lovely lady who had a double mastectomy. In the process of designing and constructing the bra (that you'll see later in the post!) we had a wonderful talk about mastectomy bras, our ideas for them and their design, and how we could make them as beautiful as possible. 🙂 So to go along with the first mastectomy bra that you saw this week over on Karin's blog, here is another bit of mastectomy inspiration!
I decided when I was making this bra, that I wanted to do a few things: I wanted to try this in a size that is larger than my size that I usually make, I wanted to try two different styles pockets for the prosthetic, and most importantly I wanted to make it beautiful! I'm happy to say that I achieved my goal!!
For these two style of pockets- you can see that on the left there is a pocket that is only contained within the cup, this will work on someone who has a fairly flat chest wall, and who is only looking to fill in the cup. On the right side there is a different pocket- this one goes all the way to the side seam which can be needed after some surgeries, where more tissue is removed under the arm. Both of these can have prosthetics made that fit perfectly into the bra and fill in all the spaces that need to be filled.
I made this one with one of each type of pocket because it is a sample to inspire all the beautiful women who come into my shop 🙂 I am so in love with the light peach foam, covered in black lace 🙂 So classy, so elegant 🙂
Although this bra isn't even close to my size (wow would I look curvy with these girls!), I pinned it on, just to show off what it looks like on a form 🙂 I have to say- I really want to make this bra for myself! I love it- it's one of my favourites I've ever made!!
I still have to make the prosthetic to put in this bra- a post on that to come! I'm just so happy with how this bra turned out! Breast cancer is a cause very close to my heart, and I'm so happy to be able to make beautiful things to help women feel like themselves again. 🙂
And speaking of beautiful mastectomy bras….
Isn't it gorgeous! This one is a soft-cup bra, made with ivory duoplex covered in a light peach lace 🙂
This one is for a lovely lady with a double mastectomy, with two of the cup-only mastectomy pockets in modal 🙂 super soft! I'm so happy we're both showing off beautiful mastectomy wear!! 🙂 There is NO reason that women should have to compromise beauty in mastectomy wear!
Make sure to head over to read Karin's post for more on this beauty!
————————————————-
And now we have some stunning submissions!
This first submission is from Jodi!
Jodi made this bra by cloning a pattern off one of fav RTW patterns- she used this beautiful lace lined with silk organza – how stunning is this!
She made this panties using the Orange Lingerie pattern to match- what a gorgeous set! This is her second bra using her cloned pattern (a few more tweaks!) her first was in Week 14 🙂 Love it!
——————————————————
Next we have a very pretty bra from Jennifer of JensWare!
Jennifer made this bra using the Shelley pattern from Pin-Up Girls, blue bird blue duoplex, flowers & hearts lace and white findings! How pretty is that!
Can I be the first to say that this reminds me of my favourite disney princess- Cinderella <3 in the best way possible! So gorgeous!
———————————————–
Thanks again for all the beautiful submissions this week! You never fail to inspire me!
Don't forget to check out the Pinterest board and if you're on Instagram and posting your lovely makes- don't forget to add in #braaweek!!
You can go here to grab a challenge button and don't forget to send your bra for next week to [email protected] by Friday for the next Sunday post!
I'm so happy to finally be posting a mastectomy bra- I don't know what took me so long! I hope that this post was inspiring for you, or for a loved one 🙂 I feel like we've all been touched by breast caner in our lives 🙂
Hope you're all having a fantastic week!
xo
erin
Hi All!
I have had the most incredible week, so full of exciting and amazing things! The first thing I want to talk about is the beautiful calendar above!! This is an amazing calendar, from Mrs.Weaver's Finest Unmentionables, is full of real and beautiful women, in support of the Canadian Breast Cancer Society! Amazing! And I'm so excited to announce that it will soon be available in the Emerald Studio Etsy Store! Make sure you head over to Karin's blog to read all about the amazing process of making this calendar 🙂 
Now back to my week!
It started out pretty amazing with a class on drag make-up- for those days when your regular foundation-mascara routine is just not enough 🙂
Then in the evening the beautiful Mrs.Weaver and I put on our corsets and headed to another evening of Burlesque, but that evening we got to show off our wears 🙂
Then it was off the next morning for a very special meeting and future collaboration! What could make a regular corset even more amazing and exciting?
Adding armour to the mix of course! We met with a very talented armourer and talked about all the exciting possibilities mixing corsetry with armour! I am so excited to see the future of this collaboration!!
Then we had a relaxing mid week- talking all things bras and bra draft- never too far from tea & chocolate.
This was also a great opportunity to make up a beautiful lacy mastectomy bra for our upcoming expos! 🙂 Mastectomy bras should really only come in beautiful options 🙂
And so many women agreed with our idea of beautiful mastectomy wear at Bra-Day in Calgary, an evening of all things breast cancer and reconstruction. What a great evening!
And now we are off to even more events to show our beautiful wears 🙂 We will be at the Calgary Body Soul & Spirit Expo all weekend!! So if you're in the area feel free to stop in for a chat!
It has really been the fullest and most phenomenal week! I can't wait for all the amazing things this week to come! 🙂 If you are on Instagram you can always check out mine and mrs.weaver's happening by following us @theemeraldstudio & @mrsweaversfinest and with our #emeraldweaverproject!
Hope you're all having a fantastic week 🙂 Let me know all about it in the comments!
xo
erin