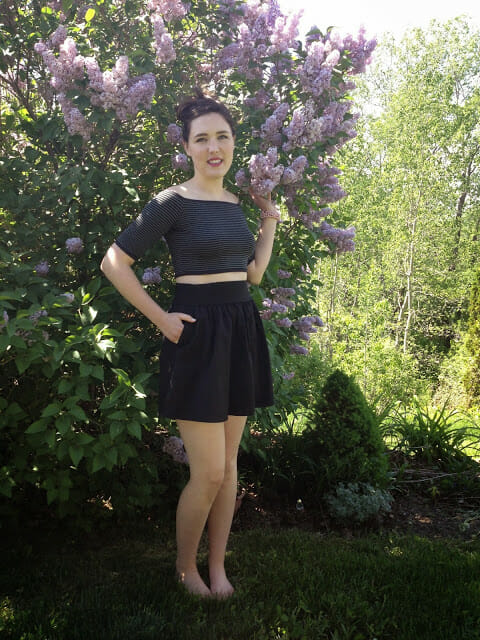 Hi All!
For my third indie pattern make of Me Made May I have…. another Nettie!!
I know I was supposed to do a different pattern every week to try out new patterns, but after I saw this pattern hack tutorial on Closet Case Files for making your Nettie an off-the-shoulder style I knew I needed one!
You know that moment when you see something that inspires you and you instantly have a complete project formed in your head- this was one of those!
I grabbed this grey and black bamboo knit out of my stash and got to work on my crop-top beauty!
It was a super simple pattern hack and Heather explains it really well in her tutorial. After dropping the shoulders, I cropped my pattern off at the 'Shelf Bra' line on her pattern, and I think it was the perfect length for a crop top for me. I cropped the sleeves to be the same length too.
Instead of doing self-binding I went back to my old stand-by, 3/8″ fold over elastic, matte side out. It worked really well for this! Although you should keep in mind that if you are finishing this with fold over elastic instead of using her method of binding, you're going to lose a little height, since this doesn't add any height to the neckline.
I am looking forward to rocking the high waisted skirt/short with a crop top trend this summer! (since I'm not quite bold enough to expose my whole stomach).
Getting my puppy love! 🙂
I feel so stylish in this outfit!
I think the Nettie is going to be a staple in my pattern collection!
And absolutely loving this pattern hack! Do you have any favourite pattern hacks?
xo erin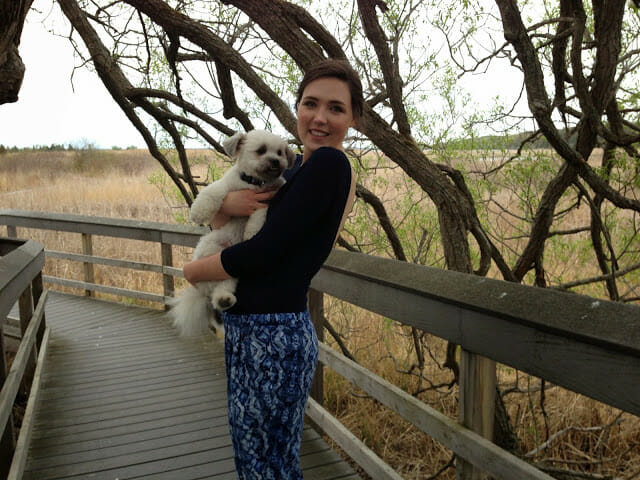 Hi All!
Today I have my indie pattern make of the week! It was part of my goal for Me Made May to make an indie pattern every week of May- and this week it's the Nettie from Closet Case Files!
Now I think I should call this goal the 'Have my amazing mom make me an indie pattern every week' because that is a lot more realistic! Again, I have to give credit to mom for this make- she is fantastic and bailed me out again!
I've seen a lot of really nice Netties out there- and I thought it was about time that I had one! And who doesn't love a body suit!
The pattern printed out pretty well, and I taped it all together. I cut out a size 10, which was pretty close to my measurements- for alterations I added 1 1/2″ at the lengthen shorten line and I raised the leg about 1″ at the side seam- because the leg was a little too low cut for me.
And the fit turned out great!! This pattern comes with so many style options- and I picked the 3/4 sleeves, the high neck and the low back!
The arms are very high cut and fitted so they stayed on really well, I was worried at first that the back would gape or that it would fall off my shoulders, but it stays put nicely!
I picked this navy knit fabric with a lot of all-way stretch. It also has this really neat pattern all over of these intersecting raised lines.
Mom used strips of it to self bind all the edges.
It came together really quick!
I think my favourite part of this suit is the low back- it just looks so elegant to me!
And it was such a fun time walking on the Marsh Boardwalk with mom and Gibby! He's such a curious little pup! And it was a perfect day for taking photos!
I am completely in love with my Nettie! I can't wait to make another one. Next time I night switch it up and make one with a scoop neck and higher back. – we'll see!
How is your Me Made May going?
Have you been meeting your goals? Made anything new?
I've been pretty happy with my MMMay wardrobe so far – I'm surprising myself with how many things I've made that I love and wear!
xo erin