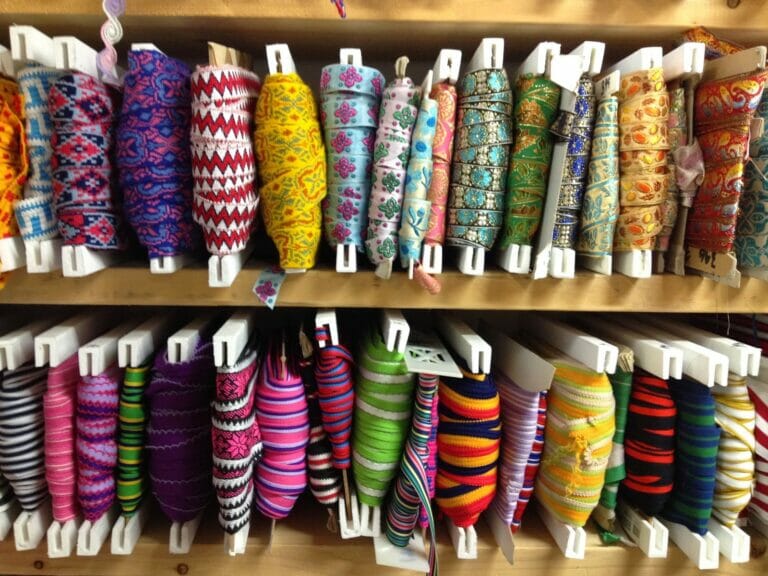 Hi All,
I have an outing to share today! A couple weekends ago Karin, of Mrs.Weaver's Finest, and I went to the fabric district on Queen st. in Toronto to do some shopping!
We were completely smitten with the huge selection of ribbons and trims and beads and charms! And of course some beautiful fabrics!
First off, we went into some bead stores, which is where I got most carried away!
There's nothing quite like pretty little things to get my attention! And I definitely had a bit of a splurge… I just can't resist all those beautiful colours! not with swimwear coming up!
And of course we had to go into Mokuba, to see all the pretty pretty trimmings that they had in there- they take their ribbons very seriously! And I couldn't get away without picking up a little something!
Then we moved on to the fabric shoppes where we found some beautiful things! Karin purchased some beautiful fabric for a future corset, and I chose a lovely silky fabric for a light summer robe!
Naturally after such a exhausting day of looking at beautiful things and inspiring ourselves for all our future creations, we had to stop for some equally beautiful dessert! at a little macaron shoppe on Queen st. called Butter Avenue. – it was just as delicious as it looks!
What a great day, I feel like I can talk to Karin for hours and hours!! We are definitely kindred spirits! And I can't wait for more fun times with her, and possibly some blog collaboration in the future 😉
Now I'm off to keep dreaming of all the beautiful things that I bought, and all the inspiring plans that we made to use them!! Don't forget to see Karin's post on our outing- she is much more on the ball than I am and had it out weeks ago! Hey-ho, better late than never!
Have you ever been shopping in the Toronto fabric district? What did you think? Any favourite spots?
xo erin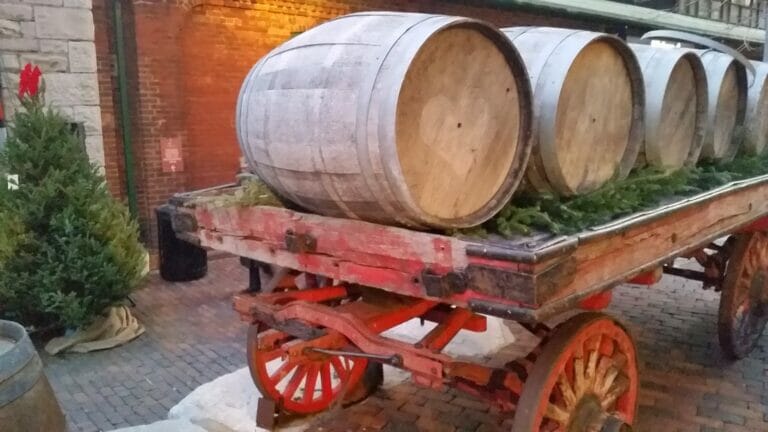 Hi All!
The other weekend I went to the Christmas Market in the Distillery District of Toronto with my friend Cael!
It was SUCH a good time, and perfect to get into the Christmas mood- the cute little wooden booths, the christmas music, the lights!
And of course the tree!
I was all over the mulled wine station! Yes please!
They had these nice warming stations outside with couches around open gas fire places- perfect to sit with some mulled wine or a Drambuie hot apple toddy.
They also had open wood fire places to warm your legs by- and these were most conveniently located near all the alcohol sample booths 🙂 Yay for being over 19!
I was fortunate enough to get some delicious samples of Hendrick's gin, many different years of Glennfidich Scotch, Amaretto, Tia Maria – and many more! mmmmmm
And in a quaint little shop I picked up this cutie for my tree!
An adorable felted wool wolf- I named her Moon.
Between the many drink samples and my little moon with me, it went a long way to keeping me warm 🙂 even when the sun started to set and all the lights came on 🙂
Such a lovely day in the Distillery District- it got me feeling all festive 🙂 And definitely left me with a holiday craving for mulled wine! Maybe that will be a post for a future Tipsy Tuesday!
What's getting you into the Christmas spirit? Any seasonal traditions? Are you ready for Christmas yet?
I'm definitely not ready!
xo erin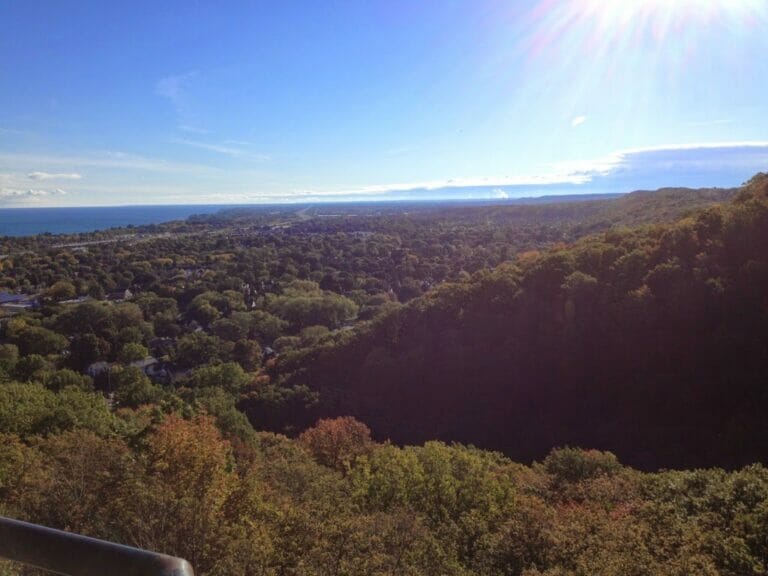 Hi All,
Last weekend one of my best friends Kaitlyn invited me out to go hiking. I got up at the 'Sunday crack of dawn' (8 am) and headed over to meet her at the trail for 9:15.
It couldn't have possibly been a more beautiful, sunny, crisp and just overall glorious fall morning.
After a week at my sewing machine it felt like a total breath of fresh air.
The trail was absolutely stunning, and the fall colours are just starting to turn 🙂
If only my ceiling looked like this all the time 🙂
I've felt cooped up in the sewing room all week- so I really needed the exercise.
The trail we went to is called Beamer Memorial Trail, just outside of Hamilton in Grimsby, Ontario.
It has part of the Bruce Trail, which is an 885 km trail along the Niagara Escarpment. Needless to say we did not walk that far lol, we just did a small part of it 🙂
But quite a beautiful part, with views of lake Ontario 🙂
We also wandered our way down to the little waterfall at the end of one of the side trails
SO PRETTY!
Kaitlyn taking pictures
She even took this one of me 🙂
Then we hiked back to the center of the trail and took these stairs down the escarpment into the valley belowf.
Then spent some time wandering the little creek running through the valley.
Doesn't this look gorgeous- yes yes it does- but I will tell you my friends, be cautious walking along rocks, in a creek, that look like this. Why you ask? let me tell you:
Just imagine me, somewhat clumsily walking along, rock to rock, when all of the sudden I put all my faith, all my weight, into my step onto a slightly angled rock, only to find out that the surface is coated in a very thin layer of algae that has about 0 friction. You can imagine what happens next: foot goes straight out from under me, and I'm on my bum before I can blink. Now the worst part of this whole experience was trying to get up off the slipperiest rock in the whole world, while trying not to pee your pants from laughter, while going into harder fits of giggles as your friend is almost peeing themselves watching you try to get up. Not to mention the very startled look I got from a birdwatcher who didn't understand my laughter and was worried that I justf couldn't get up, whom I had to reassure that I was indeed okay.
That my friends is why you must be cautious with these rocks.
But after the whole rock ordeal we made it all the way back up the stairs and back along the trail, where we ran into this little guy
What a cutie 🙂 I love woolly bear caterpillars 🙂 and what a nice end to the walk 🙂
I feel like this is something that I should do more often, I felt about 10 lbs lighter walking out of those woods, like it cleared my mind and refreshed me so much- I would highly recommend it, especially now while the weather is so beautiful!
Do you like to walk the trails in the fall? Do you have a favourite hiking trail in your area?
I just love it! and this trail is such a gem!
I am off to drink some tea, cuddle up in a sweater, and do all the very seasonable things- I might even buy a pumpkin to carve 🙂
xo erin
Hi All,
This Wednesday I thought the topic of friendship and spending time with best friends was important- so I thought I would share my visit with one of my best friends Claire.
Claire and I met just over two years ago now as co-workers in a summer student research job- we hit it off instantly!
And now that we've gone our separate ways with career and education, we've always made time to keep up with each others lives and to get in a couple visits here and there (like our visit last Christmas).
I went to see her this past weekend and it was SO MUCH FUN 🙂
The first night we went to this amazing bar in downtown Toronto called Barchef, where they serve the most fabulous cocktails.
Claire ordered this 'Sailor's Mojito' that was served with an accompanying 'drink ravioli' and 'beach essence' that gave you the smell and feel of the beach as you drank – Claire bought the recipe book and found out that it's dry ice with tanning oil to give the beach smell- but wow was it amazing!
It was such a cool place- but it was a really dark and cozy atmosphere, amazing for sipping drinks- but not so great for photos- this is the only one that turned out, but I also tried the strawberry lavender daiquiri, the basil daiquiri, and my personal favourite of the night- the coconut mojito. – All so amazing!
But after a late night of being posh and drinking fancy cocktails in a nice bar downtown Toronto with all of Claire's beautiful friends – it called for a long sleep.
A sleep which ended in a wake up call of this lovely kitty giving me a gentle head-but, then rubbing down my whole body before sprawling out tummy-up beside me 🙂
The beautiful and oh-so-fluffy Sparta. Who also after waking me up, decided he would go right back to sleep in his tree 😛
So Claire and I got on with the feast making- and made a lovely brunch of medium boiled eggs, toast, sausages, pastries, fruit salad, yogurt and muesli! mmmmm was it ever good!
Perfect fuel for the day ahead- of swimming at her friend's pool- which I was too in the moment to take pictures of- and for the evening activity which was going to the EX! or the Canadian National Exposition- a huge fair!
Naturally we got the wristband pass for all the rides and almost made ourselves sick riding all of them!
Even the beautiful kiddy swing ride!
It was such a fun weekend- and it really reminded me of how important friends are, and how special they are in your life 🙂 – there were so many other little unmentioned things too- like getting ready to go out for drinks, colouring the little animal print-outs with Claire's copic markers, and just getting a chance to catch up! 🙂
Hope you're all having amazing weekends too!
xo erin