Hi All!
This Throwback Thursday, I have a slightly more recent project than last week's TBT , but this was also a project made for me by my lovely mom 🙂
And it is this coat, made from McCall's M5513 about 5 years ago:
I consider this my more 'dressed up' winter coat- since it is so nice over dresses and just for a really chic look 🙂
le front
le back – I love the waist line on the back, so flattering!
le side, showing off those pleats and the bubble hem!
Mom made this out of black boiled wool, and she lined it with a lovely red, white & black plaid cotton, and red satin on the inside.
You can wear it with the collar up or down, I usually opt for up, but it is super cute down too.
close up with the lovely vintage cut-glass buttons
And the satiny lining:
The boiled wool makes it really warm- which was nice because it was FREEZING and windy on the beach!
Always lots of sisterly love when taking photos:
(I must not hit my sister over the head with a big stick)
And as you can tell from this photo Finn had just about enough of the pictures- he was ready for the walk!
Here's to my second Throwback Thursday- and this amazing coat that my mom made! My mom actually has a Pattern Review account (which I have convinced her to start using!) and she put a review of the coat up today! her first review 🙂
Hope you are having a nostalgic Thursday!
xo erin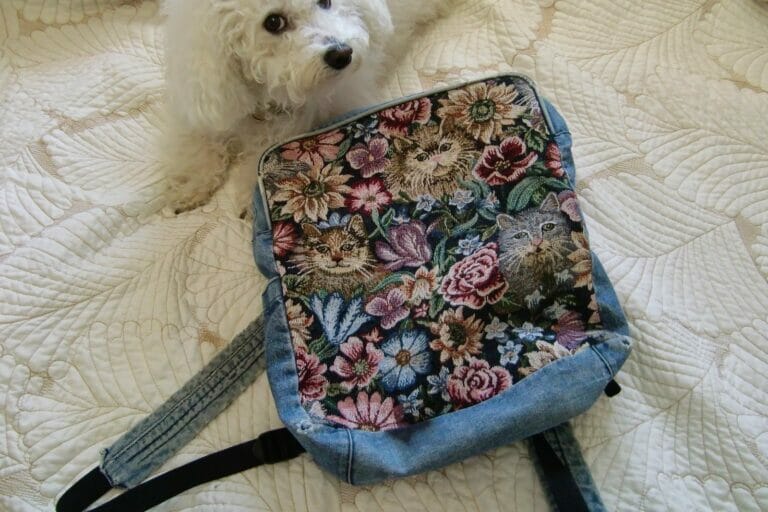 Hi All,
So I thought I would start a new thing- TBT (throwback-thursday, for those not in the know), where I will show you a sewing project from my pre-blog days.
I'm thinking that quite a few of these will be made by my mom, since she has made me so many lovely things throughout my life- and I'm going to kick this off with something my mom made me almost 18 years ago: my back pack.
In all its cat tapestry glory:
The denim has achieved a faded and worn look that modern distressing techniques can't even replicate
Here -as proof of its age- is me, on my first day of grade 1
With the backpack- as you can see it was a much darker denim to start off with and also the zipper has since been replaced with a navy zipper.
Can I just point out what a stylish child I was- I mean short-alls over a smiley face T-shirt and those velcro sneakers- rocking that 90's fashion
I managed to find another picture as proof of its continued use – this is my first day of grade 4- gotta love those side ponies.
And of course the backpack- with slightly more fading and the navy zipper.
I can say with full honesty that I have never had another backpack- this thing lasted me all the way through high school and I even used it in university. Now I mostly sling it over one shoulder and run out the door. But I love anytime someone asks me about it- because I can say "my mom made me this in Kindergarten- it's the only backpack I've ever had!"
I think you can tell by the colour change over time that this has seen a lot of use- this bag has been traveling with everywhere- It is one of my favourite things that I own 🙂
Thanks again mom for making me this backpack!
Happy Thursday!
xo erin