Hi All!
I have some SUPER COOL BRA THEORY for you today!!
I often get asked "how do you make so many beautiful professional looking bras?" And that real answer to that is- experience- I've been making a bra almost every week for about a year and a half now! And what I've learned from that is the importance of bra planning. Thinking about the bra before I make it, where the seams are going to be, how I'm going to attach the strap, what elastics and fabrics I'm going to use.
One thing I like to do is to search through my lingerie board on Pinterest to see what beauties I love the most, then deconstruct them. It's so easy to look at a bra and just think "oh that's so pretty- I could never make something that amazing!" but if you really break it down into all its parts- a lot of bras are actually quite similar. And when you break them down you can figure out how to make them yourself!
So I thought I would try to share some of the bra planning wisdom that I've gained with a guide!
I made up a two page checklist/guide that breaks down a bra into all the elements that you should think about before you start to make it. I like to use this on bras that I see on Pinterest, but you could use it on a bra that you think up completely on your own! It helps to iron out all the kinks you could come up against. There's nothing worse than getting 3/4 done with a bra then thinking- 'how am I going to attach the strap in a nice way?" or 'I would have really preferred a strap scoop in the back'. This can all be avoided with a bit of thought and planning!
and Voila! Here's the Guide!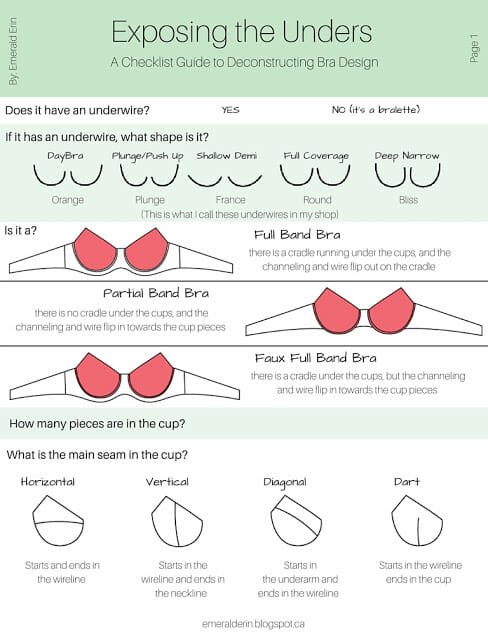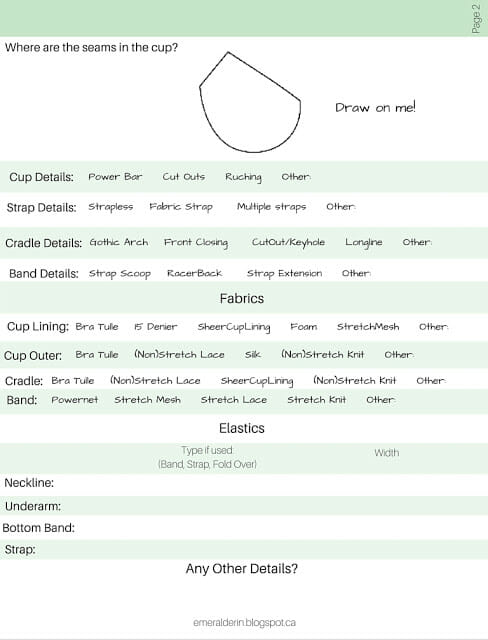 (look at me figuring out the modern illustrating technologies!)
Here is a link to the PDF version so you can download it and print it out for yourself 🙂 (otherwise you could save the images off of the blog- but that might not be as pretty)
This guide is targeted at mostly underwired bras, but you can still use it for non-underwired (just skip all the wire related questions!) and it's also more useful for bras that have seams (rather than any type of moulded cup) because that's what most people are sewing.
It goes over underwire type, construction, seaming, cup-strap-cradle & band details, fabric and elastic choices, and as always there's a spot for you to put in additional comments!
This, of course, doesn't cover every single feature that every bra out there has, it's more to get you thinking about how bras are made and what you should think about when you're dreaming up your next creation 🙂 I think it also helps to break it all down and make it seem a little less intimidating!
I thought I would show you the guide in action with my most recent bra: The Lily of the Valley!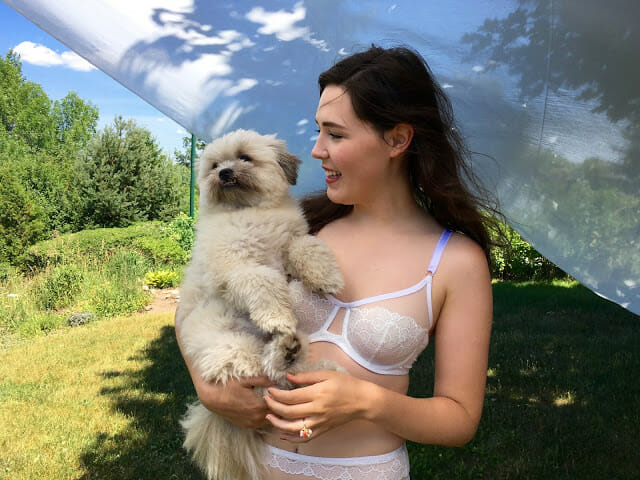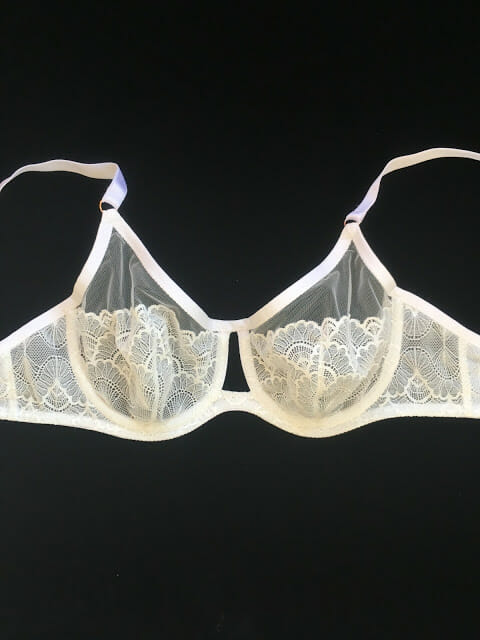 This bra has a lot of pretty features, and it can look overwhelming- but it's really not too complicated- here is how it breaks down in my guide 🙂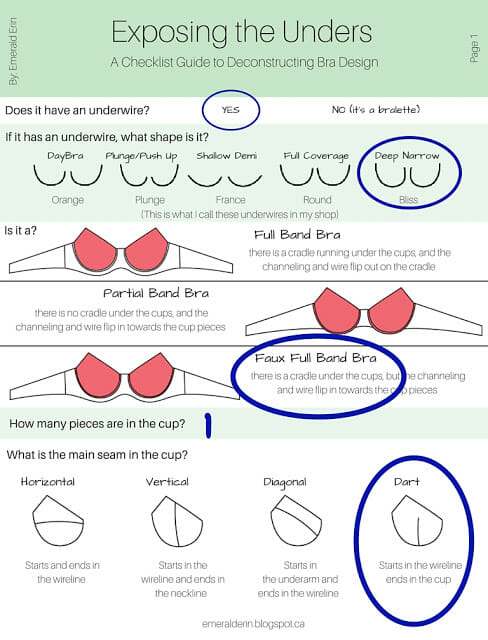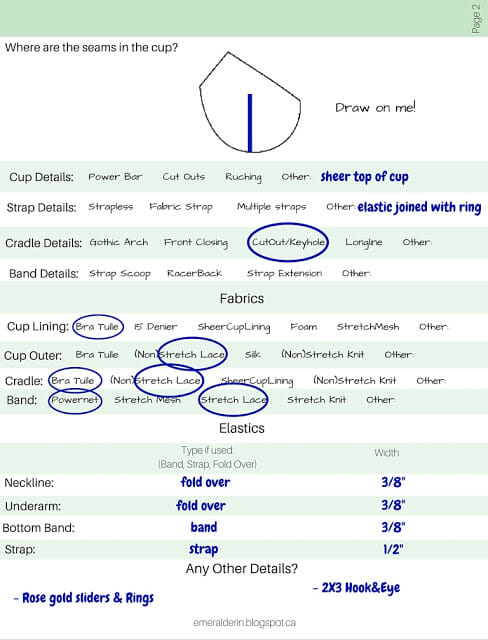 Boom! In no time you can have a quick and dirty break down of your bra- which makes it so much easier to plan out your construction, see where you might rather change things, how it's all going to come together!
Are there any other bras that you would like me to break down using this guide? I can do a mini series of your favs!
Do you struggle with bra planning or have a system of your own?
Talk to me in the comments!!
xo
erin