Hi All
This post is going to be all about the different styles or shapes of underwires- before I jump in I want to let you in on some exciting updates… I just launched two new underwire styles in my Etsy shop! more about them in this post- so let's jump right in!!
Also- if you haven't already read last weeks post on Fitting Underwire, it has some great information before you start into this post!
So first off- what do I mean when I say different 'Styles' of underwires?
Different styles of underwires are all the different shapes of underwires. They can be tall and narrow, short and shallow, high on the sides, high at the front, all different!
There are two main reasons for different underwire styles: 1. to suit different body types, and 2. to suit different bra styles.
Let's talk about different body types first. There are some key factors that are important to consider about your body type when you go to pick an underwire style mainly: breast shape & how close your breasts are together. Now, because this is about underwires, we're thinking more about your chest wall, and how your breasts meet on your chest wall, rather than the rest of your breast shape (that's a job for the bra cup!)
I like to picture this by imagining that your breast disappeared- and all that is left is an circle of where it attached to your chest wall- What does that circle look like?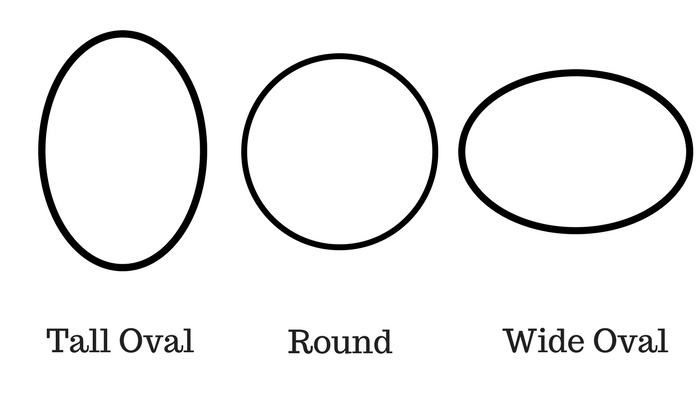 is it more of a tall oval? round? or a wide oval
** It's important to remember that there are SO MANY different body types, and variations, this is only a generalization to help guide you on finding the best underwire for you ** 
Generally if you're a tall oval I find that these are your specs:
This is the most 'average' body type, and is the most common for bra patterns.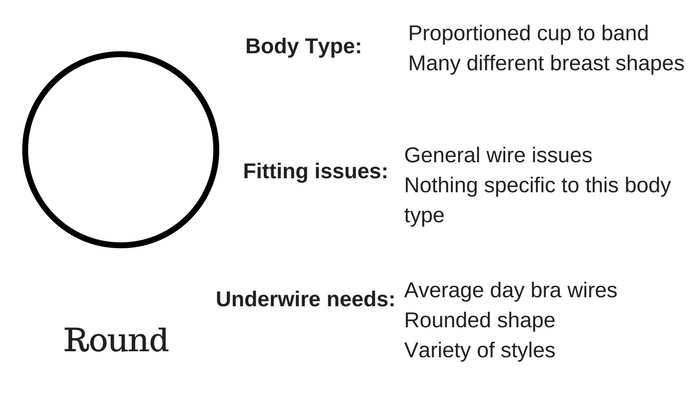 The wide oval can be on a variety of body types- some I find on very petite women with small cup sizes, who need very shallow wires. Others are larger cups, usually with larger bands and can have both wide and narrow bridge.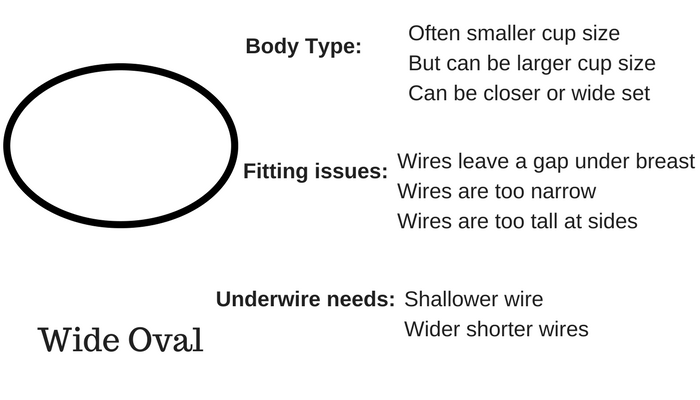 As you can see, even from looking at the shapes, it becomes a little more clear what type of underwire shape would fit each breast type best.
Now the other consideration for different styles of wires are different styles of bras.  Is it a standard day-wear bra? is a a plunging bra? is it a high front or strapless bra? All of these bras will have underwires to suit their styling. If you follow sewing patterns to make your bras, then they will have decided the wire that they want to use- but if you draft your own, you can pick out whatever style you like to make up!
In my shop, I've worked on sourcing all different styles of underwires to suit different body types, and also different bra styles. Here is the collection of wires I've curated for my shop along with my two new ones!!
I'll start with my most classic and popular: The Orange! This one fits in really well with lots of bra patterns including the: Marlbrough, Boylston & Fenway (Orange Lingerie), The Harriet (Cloth Habit) and the Sofie Swimsuit (Closet Case Files)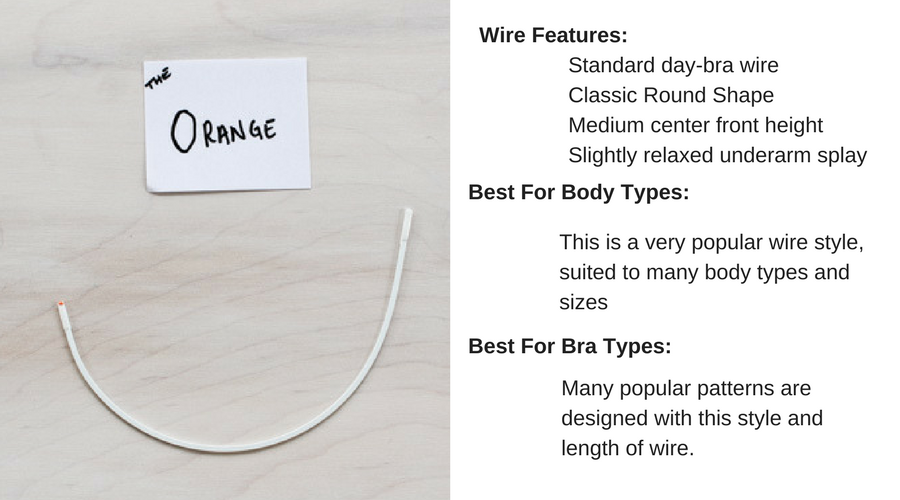 Get this wire here, or get the fitting pack here 
Next is my other very classic bra wire- this one is also a standard that fits with many patterns including the Cindy (Ohhh Lulu) and the Classic and Shelley (PUG patterns). It's a little higher at the center front than the Orange, so a little more full coverage.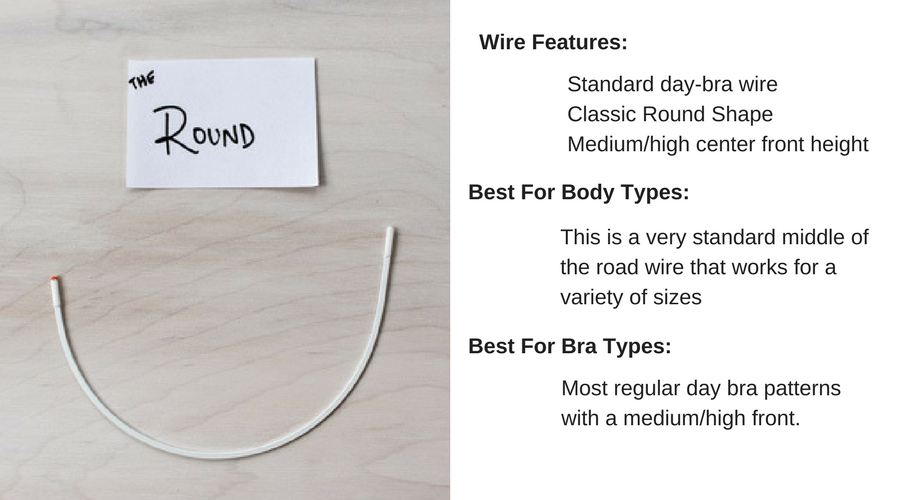 Get this wire here, or get the fitting pack here
Next is one of my most popular wires- the Bliss! This is perfect for those tall ovals, people who have little space on their bridge and difficulty getting their wire to go back to the chest wall- it's narrower than the round or orange.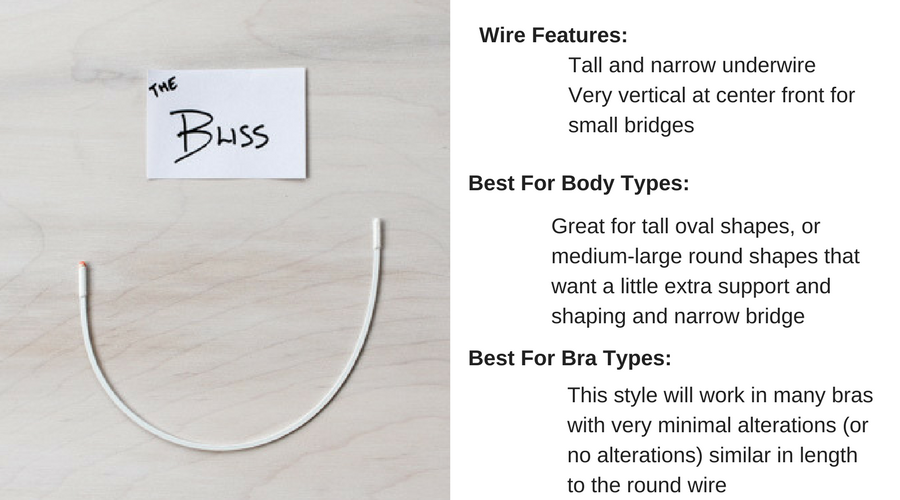 Get this wire here, or the fitting pack here 
Next is one of my new wires- The Omega! And this is a more specialty wire- as you can see immediately – this wire is for the very tall ovals! This wire is not suitable for most people, but amazing for some! I used this wire in my custom bra making days for the ladies with very large cups on small bands, who'd never had a wire go back to their chest wall!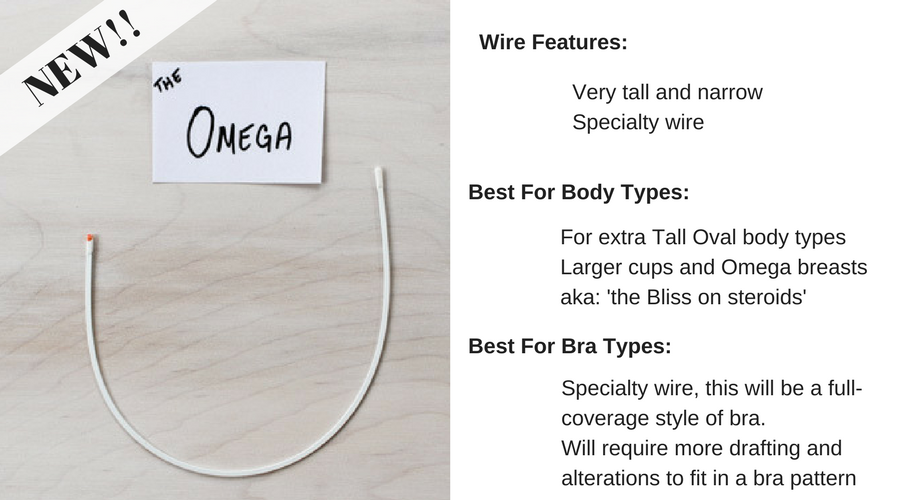 Get this wire here, or the fitting pack here
Now let's swing in the opposite direction- for the wide ovals. This France wire is one of my favourites- it's perfect for the petite wide oval body type, but can also be used as a more relaxed wire for lots of bodies.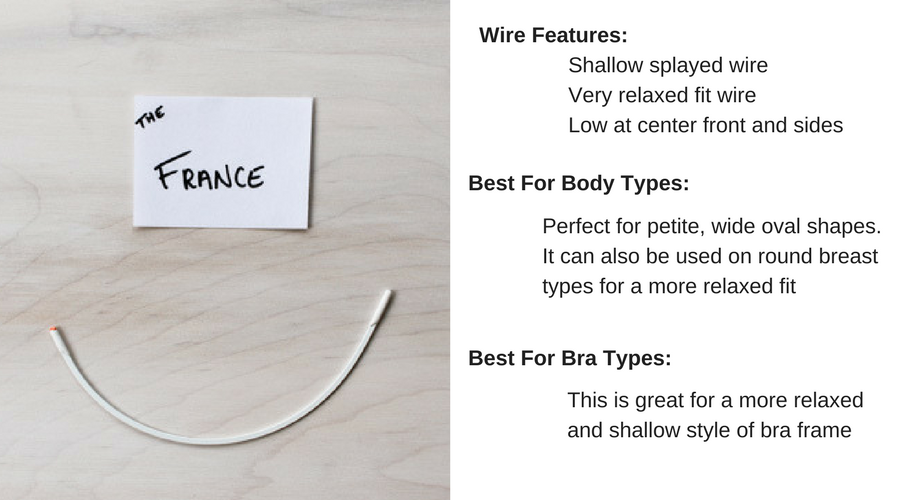 Get this wire here, or the fitting pack here 
Next is another new wire- the Carmen! This shape is also good for the round to wide oval body types! It's similar to a standard wire, with a bit of extra width. It's also great for more wide-oval shapes with close set breasts, because the arms don't splay as much!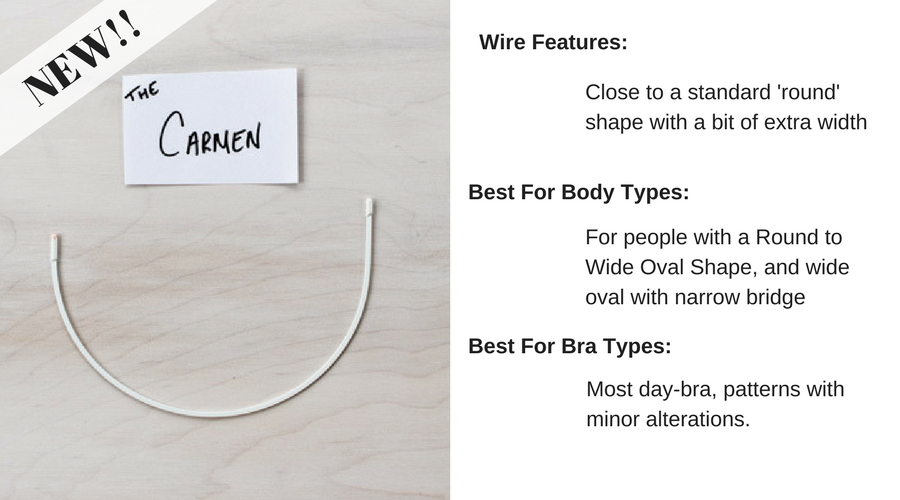 Get this wire here, or get the fitting pack here
And finally I'm going to end on a fun wire! This is a plunge wire, low in the front normal height on the sides- perfect for really getting some cleavage in a plunging bra!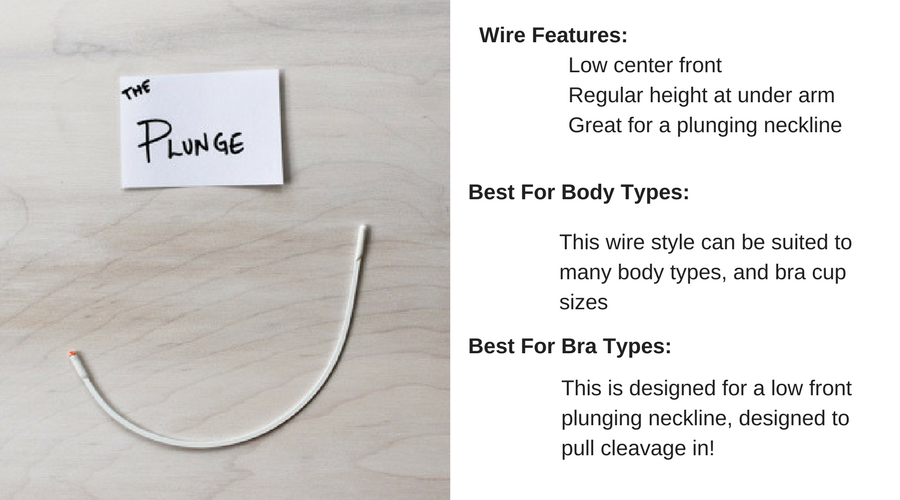 Get this wire here, or get this fitting pack here 
There really are an infinite number of different wires out there, that get even more specific to niche body types, or bra styles- you can get monowires, over wires and everything in between. Personally I'm working towards curating a selection for the best body fit possible.
What are your favourite underwires? Are there any new styles that you would like to try?
I'm going to be doing a series of mini posts this week focusing on each wire, with even more information!
Next Sunday -up on the blog will be the monthly round up! Don't forget to send me all your bra, swim & intimate makes, as well as any posts that you've written on bra making! send to:  bra.a.week@gmail.com
But don't worry – Underwire Month won't end here! Since there have been so many comments & requests – I'm extending it into July! You can look forward to posts on: modifying your pattern for a different size of wire, modifying your pattern for a different style of wire, and common underwire fitting issues!
Until next week!
xo
erin