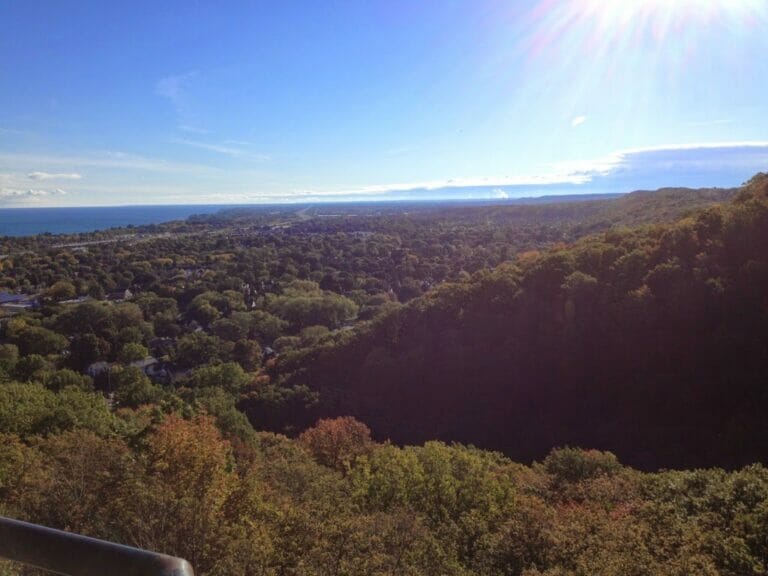 Hi All,
Last weekend one of my best friends Kaitlyn invited me out to go hiking. I got up at the 'Sunday crack of dawn' (8 am) and headed over to meet her at the trail for 9:15.
It couldn't have possibly been a more beautiful, sunny, crisp and just overall glorious fall morning.
After a week at my sewing machine it felt like a total breath of fresh air.
The trail was absolutely stunning, and the fall colours are just starting to turn 🙂
If only my ceiling looked like this all the time 🙂
I've felt cooped up in the sewing room all week- so I really needed the exercise.
The trail we went to is called Beamer Memorial Trail, just outside of Hamilton in Grimsby, Ontario.
It has part of the Bruce Trail, which is an 885 km trail along the Niagara Escarpment. Needless to say we did not walk that far lol, we just did a small part of it 🙂
But quite a beautiful part, with views of lake Ontario 🙂
We also wandered our way down to the little waterfall at the end of one of the side trails
SO PRETTY!
Kaitlyn taking pictures
She even took this one of me 🙂
Then we hiked back to the center of the trail and took these stairs down the escarpment into the valley belowf.
Then spent some time wandering the little creek running through the valley.
Doesn't this look gorgeous- yes yes it does- but I will tell you my friends, be cautious walking along rocks, in a creek, that look like this. Why you ask? let me tell you:
Just imagine me, somewhat clumsily walking along, rock to rock, when all of the sudden I put all my faith, all my weight, into my step onto a slightly angled rock, only to find out that the surface is coated in a very thin layer of algae that has about 0 friction. You can imagine what happens next: foot goes straight out from under me, and I'm on my bum before I can blink. Now the worst part of this whole experience was trying to get up off the slipperiest rock in the whole world, while trying not to pee your pants from laughter, while going into harder fits of giggles as your friend is almost peeing themselves watching you try to get up. Not to mention the very startled look I got from a birdwatcher who didn't understand my laughter and was worried that I justf couldn't get up, whom I had to reassure that I was indeed okay.
That my friends is why you must be cautious with these rocks.
But after the whole rock ordeal we made it all the way back up the stairs and back along the trail, where we ran into this little guy
What a cutie 🙂 I love woolly bear caterpillars 🙂 and what a nice end to the walk 🙂
I feel like this is something that I should do more often, I felt about 10 lbs lighter walking out of those woods, like it cleared my mind and refreshed me so much- I would highly recommend it, especially now while the weather is so beautiful!
Do you like to walk the trails in the fall? Do you have a favourite hiking trail in your area?
I just love it! and this trail is such a gem!
I am off to drink some tea, cuddle up in a sweater, and do all the very seasonable things- I might even buy a pumpkin to carve 🙂
xo erin
Hi All,
This Wednesday I thought the topic of friendship and spending time with best friends was important- so I thought I would share my visit with one of my best friends Claire.
Claire and I met just over two years ago now as co-workers in a summer student research job- we hit it off instantly!
And now that we've gone our separate ways with career and education, we've always made time to keep up with each others lives and to get in a couple visits here and there (like our visit last Christmas).
I went to see her this past weekend and it was SO MUCH FUN 🙂
The first night we went to this amazing bar in downtown Toronto called Barchef, where they serve the most fabulous cocktails.
Claire ordered this 'Sailor's Mojito' that was served with an accompanying 'drink ravioli' and 'beach essence' that gave you the smell and feel of the beach as you drank – Claire bought the recipe book and found out that it's dry ice with tanning oil to give the beach smell- but wow was it amazing!
It was such a cool place- but it was a really dark and cozy atmosphere, amazing for sipping drinks- but not so great for photos- this is the only one that turned out, but I also tried the strawberry lavender daiquiri, the basil daiquiri, and my personal favourite of the night- the coconut mojito. – All so amazing!
But after a late night of being posh and drinking fancy cocktails in a nice bar downtown Toronto with all of Claire's beautiful friends – it called for a long sleep.
A sleep which ended in a wake up call of this lovely kitty giving me a gentle head-but, then rubbing down my whole body before sprawling out tummy-up beside me 🙂
The beautiful and oh-so-fluffy Sparta. Who also after waking me up, decided he would go right back to sleep in his tree 😛
So Claire and I got on with the feast making- and made a lovely brunch of medium boiled eggs, toast, sausages, pastries, fruit salad, yogurt and muesli! mmmmm was it ever good!
Perfect fuel for the day ahead- of swimming at her friend's pool- which I was too in the moment to take pictures of- and for the evening activity which was going to the EX! or the Canadian National Exposition- a huge fair!
Naturally we got the wristband pass for all the rides and almost made ourselves sick riding all of them!
Even the beautiful kiddy swing ride!
It was such a fun weekend- and it really reminded me of how important friends are, and how special they are in your life 🙂 – there were so many other little unmentioned things too- like getting ready to go out for drinks, colouring the little animal print-outs with Claire's copic markers, and just getting a chance to catch up! 🙂
Hope you're all having amazing weekends too!
xo erin
I feel like there are so many little Christmas things that I didn't get to share on this blog, partly because it is such a busy time of year, but also because they all seemed a little small and insignificant for posting. So before it is altogether TOO late- I am going to reflect over a few little things from this Christmas.
Firstly- my minimal apartment decor- which was simple and fleeting- as I generally go home for the weeks surrounding Christmas- but none-the-less I feel like I did a good job at creatively adding some festivity to the apartment. My favourite decoration had to be the bats- a leftover decoration from Halloween that I decided to Christmas-ify with some little hats and antlers.
Before:
After (aka- instant Christmas)
Then I had my little tinsel tree, that I decorate in full girly style with all my bling:
And then, what had to be the BEST part of all my Christmas holiday: A crafty visit from my best friend Claire! – It was three days of bliss- all day crafting, wine-drinking & delicious food eating in our pjs!
She brought her very impressive collection of card making supplies:
And showed me how to make the most beautiful and festive cards- I ended up with these five most beautiful cards!
She had so many nice stamps and an amazing organization system they were all sorted in binders with a page of them stamped beside so you could see what they would look like- such a smart crafter!
SO GOOD- and I can proudly say that we were very healthy during our 3 day crafting marathon! Especially being so close to Christmas!!
She also got me an amazing book for Christmas:
which I have been pouring over during my free time this holiday!
Also- more about my Christmas at home–> my mom got me some gorgeous estate earrings:
and we put up our crazy- overloaded fake tree!
All the Christmas things!
Hope you all had wonderful Christmases with friends and family- and most importantly stuffed yourself with delicious food!
xo erin