Hi All!
Today I have my first ever guest post on my blog! My lovely guest is Scarlett from Corset Training .Net, and she has an amazing tutorial on corset making for you- and a free pattern!
Scarlett contacted me about a month ago to connect as blog-friends (it's lovely having blog friends who understand your love for intimate apparel! 🙂 ) and also to let me know about her affiliate program for her corset patterns and her corset making video. Now I'm usually wary of people contacting me about my blog to advertise or sell anything, but Scarlett is so nice and friendly! So of course I went off to check out her site and in seconds I was completely drooling over all her gorgeous corsets (The Heart Corset – *swoon*)- she is truly an artist. Then I watched her course- and wow- it is fantastic!! She is so clear and concise, she adds lots of great practical tips and I learned a ton about corset making! It's given me the corset bug and I wanted to be able to share this all with you! I'm sure this tutorial will give you the corset-making bug too!
Scarlett was also nice enough to give all of you, my lovely readers, a one-week 30% discount on the course! YAY! Just use the code ERIN30 🙂
Don't you just love the sound of that "Emerald Erin Summer Fun Discount"!
Scarlett definitely out-did herself with this tutorial- and it's so long that I'm going to split it into two parts! So here is Part 1 today! Be prepared to swoon at all the corset deliciousness!
——————————————————–
How To Make A Corset Belt, Part 1
I'm so excited to be here
doing this tutorial for you, a massive thank you to Erin for having me! 🙂 We're
going to make a simple corset belt that looks great over a dress or a circle
skirt. I'll be teaching you the easy 'single layer' method so we won't have to
make a separate lining. This is a project you can complete in 2-3 evenings.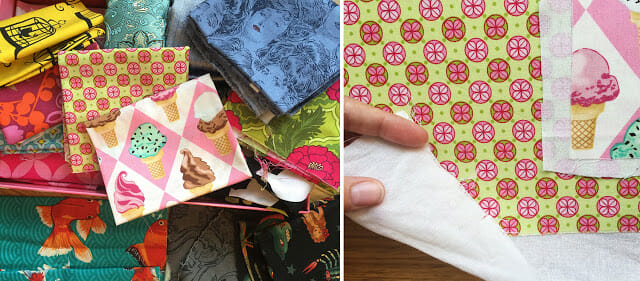 When I found out I would
be guest blogging for Erin, the first thing I did was to open the fabric stash
and look for something fun, summery and emerald! This emerald ice cream (also
known as Mint Choc Chip!) jumped out at me. The fabric was a little thin so I
ironed on some lightweight woven fusible interfacing, which is great for making
corsets out of quilting weight cottons. I'm pairing the ice creams with this
pink and green flower pattern, I'm sure I'm getting cavities just looking at
them!For this tutorial I'm going to be using my free Corset Belt Pattern.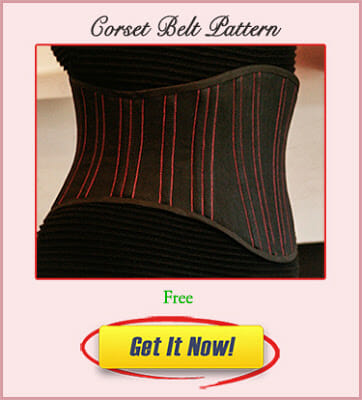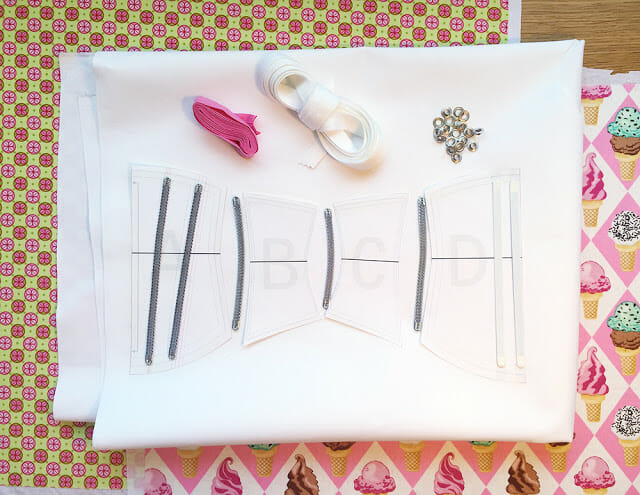 ½ yard outer fabric
½ yard lining fabric –
coutil cotton
1 corset belt pattern –
see link above for free pattern
10 spiral steel bones – 1
inch shorter than your seams
4 flat steel bones – for
the back of the corset, 1 inch shorter than the back seam
2 ½ yards of cotton bone
casing (thin bias binding also works)
A packet of 5mm eyelets
that come with a little setting tool
2 – 3 yards of bias
binding depending on which size pattern you're using
You can get all your
corsetry supplies from one of the many online stores, corsetmaking.com is a
good one, but there's an exhaustive list
here
.
There are a few items on
the list you may not be familiar with, coutil is just a type of cotton that
doesn't stretch and bone casing is cotton tubing that stitches into garments to
hold boning. If you haven't used eyelets before, Prym do wonderful packets with
setting tools included and full instructions on the back.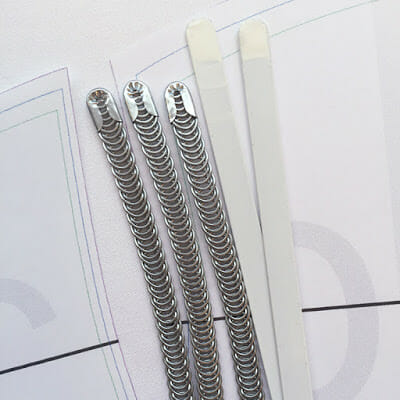 Steel bones always seem
to scare sewists who haven't used them before but they don't bite and they're
very easily obtained online for under a dollar each, you just pick the size you
want. Above you can see the seams that will need spiral bones and at the back
where you will need flat bones. Measure each seam or bone channel on your
pattern and pick a size 1inch smaller (Don't forget to buy enough for both
sides!). Try to avoid plastic bones as they bend when you sit and develop
unsightly kinks. Steel is more comfortable and lasts longer.
Making The
Corset Belt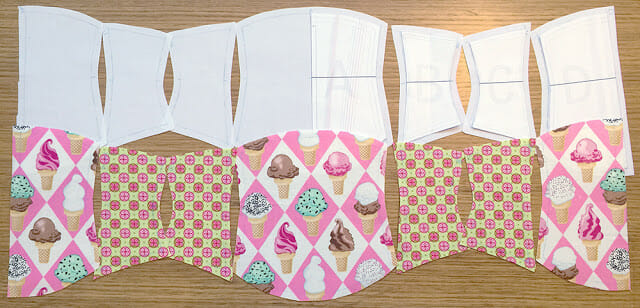 So here we go! First cut
out your pattern pieces, I like to leave a half inch seam allowance all the way
around. We don't need it along the top and bottom edge but trimming it after
sewing everything together gives you a nice smooth edge.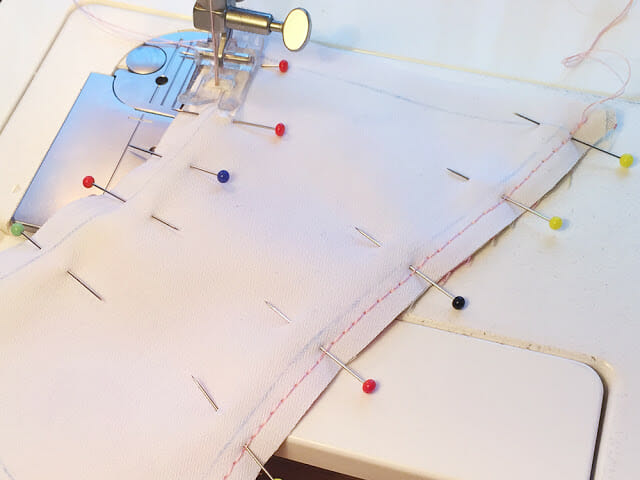 Now baste (use a wide
stitch to secure) the two layers together in the seam allowance for each piece.
Do this for all pattern pieces except the very back ones where the eyelets will
go.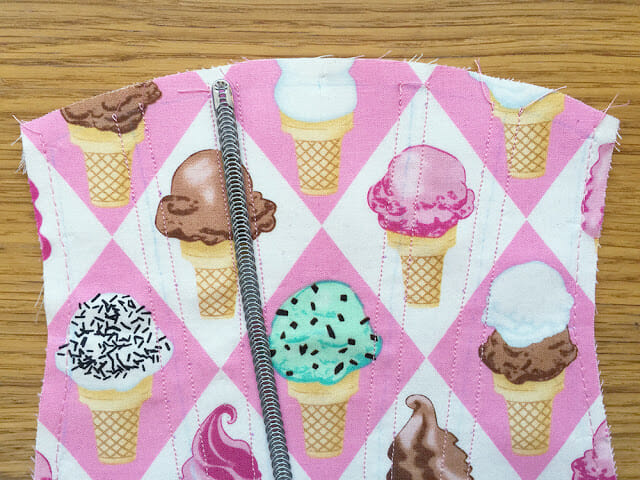 Next take the front piece
and sew the bone channels marked on the pattern, making sure they're wide
enough for your bones. Here my bones are 1/4 of an inch so I've sewn my bone
channels 3/8 of an inch. The bones will sit between the two layers of fabric.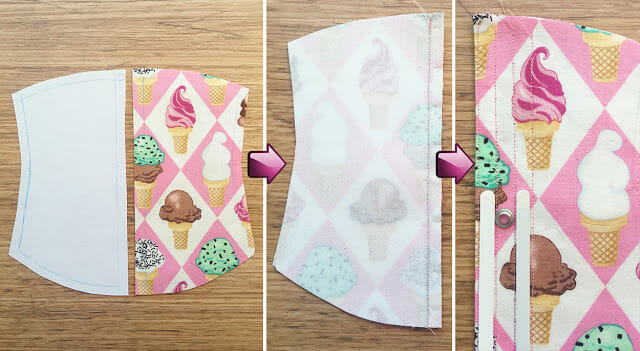 Now let's turn our
attention to the back pieces, we need to sew the back edge where the eyelets
will go.
Place the outer and
lining fabric right sides together and sew along the back seam. Press the seam
open, turn the fabric so the right sides are facing outward and press again. To
make the seam extra strong stitch 1/8 of an inch in from the edge. Now sew
three more lines of stitching as shown above to create the two bone channels
with the space in the middle for the eyelets. Make sure they're wide enough for
the bones and eyelets! Finally baste the open edge of the pieces together.
And that is Part 1 of my Corset Tutorial! You can look forward to Part 2 on Tuesday where I will show you all about inserting the eyelets, sewing the seams together and finishing the edges with binding!

——————————————————–
Thank you so much Scarlett for sharing this guest post! I can't wait until Part 2!!
I also can't wait to start into corset making again (dreams for the fall..)- I know when I do I'll be coveting
Scarlett's The Heart Corset pattern
– as soon as I saw it I knew that I needed it in my life *swoon*!
Now I just wanted to put a little disclaimer here, about this discount code, and about my new side ad, since up until today I've been an entirely ad/sponsor free blog.
I am part of Scarlett's affiliate program, and I do make a commission on course and pattern sales that go through my blog and my links, so there is a profit to be made. But, most importantly, I will NEVER advertise or promote something on my blog that I do not love myself and believe in. My opinions are entirely my own, and there is no deal or sponsorship that will change that. I only allow relevant content on my blog that I have watched/tried/loved myself and that I want to share with all of you. And it will be that way for any other future affiliate or sponsorship that I share on this blog.
I know that there are somewhat mixed reviews on advertising on sewing blogs, but my opinion is very simple on this matter. As long as it is relevant to the blog, and doesn't change the opinions and recommendations of the author, then I am in full support of sponsorship. Being a blogger is a labour of love, that takes far more time and energy than could ever be compensated by ads- but every little bit helps- especially when this is part of your full-time job!
I decided to join Scarlett's Affiliate program because I watched her course and absolutely loved it- and I thought that you might too! And on top of that she is a completely lovely person, and wonderful e-mail friend, and I'm happy to support her!
I hope you enjoyed this guest post- and makes sure that you check out Scarlett! And don't forget to come back for Part 2 on Tuesday!
xo erin
I have been beading obsessed over the holidays- partly since it is one of the only crafty things that I specifically brought home with me, but also because the holidays always seem to draw me toward sparkly and pretty things- let's be honest that is all year round.
So I thought I would share my favs with you- starting with my absolute favourite, which is this spider bracelet:
The only spider that I will allow on my hand, as I am a mild arachnophobe.
It was a little tricky to make- but since I know that the folk of the internet are very crafty, here is how I did it- if you are in a DIY kinda mood-
So first I picked my beads that I wanted for the head and the big bulbous body- I freak myself out thinking about that..
And put them on a headpin, with a little end bead, leaving some space between them to attach the legs, then I cut the headpin to size and folded over the end to secure it.
Then pick out what you want for your legs: try to make them so that they are fine at the tips, then go to a small join, slim again, then a bigger joint bead, then slim down again so that they can attach to the body really close together. Here are three of the legs laid out. – Also they will all be ending in a jump ring so they can attach to the chain around the back.
Then, what I did, was string them all together on a very fine continuous wire. So I started the wire by going through the large body bead (with the loose end sticking out the back to be wrapped around the head pin and then trapped under the body bead to be secured). Then I strung the beads for the first leg- wrapping the wire around the jump ring, then going back through all the beads, leaving the wire back at the headpin, wrapping it around a couple of times before doing the next leg.
I'm very sorry if this is confusing, it was hard to take descriptive pictures, and I feel like I am being a bit long winded with my explanation- but alas, what can you do?
So once you have done all eight legs (OMG why do spiders have to have so many legs) then you are going to want to attach the chains to make it into a bracelet. So you will want to measure your wrist, then measure across your spider- to find out how much chain you will need to make it around the back of your wrist, of course leaving a little extra so that you can comfortable move your hand.
So when you have these measurements- cut three pieces of equal length chain (for each side), attaching all together at one end to a lobster clasp, and conversely on the other side converging to a ring on which you will clasp your lobster clasp… – although you could use any clasp/closure type that you want for this- Then you will connect the other end of those chains to the jump rings at the end of the bottom three legs from one side, doing the same to the other side with the other half of chains.
Then once you have that done, and you secure it around your wrist- you will want to stretch the remaining two front legs up your hand, then measure a length of chain that (with wiggle room) reaches from one leg, around your ring and middle finger and to the other front leg.
You should end up with this:
Make sure that you leave a fair amount of extra chain for the one going around your fingers, because this distance will fluctuate a lot as you open and close your hand- and you don't want to put too much strain on the poor guys arms!
Also- if you have any questions about how to make this or if anything was unclear feel free to ask away!
Meanwhile, as I was toiling away at my little spider friend, my sister was busy at work making gorgeous things like:
and
Though I can claim credit for the one in the middle (that my sister refers to as 'the baby blanket bracelet').
I also made these earrings, inspired by New Year's fireworks
Overall I would say that it was a very productive afternoon of beading!!
Hope you all had creative holidays and that you are finding ways of keeping creative in the busy New Year!!
xo erin