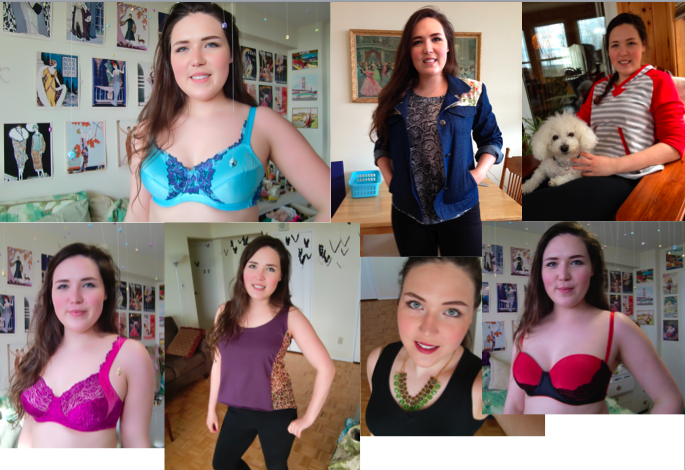 Hi All!
Week 2 of MMMay was a very busy week for me! It was filled with lots of bra-making, lots of driving and best of all lots of mom & me time!
And this is what I wore for my busy week!
DAY 4
A Lazy Sunday spent packing with my mom for our week at BoobCamp- My me-make of the day is the stripped hoodie- so comfy! blog post about the sweater 🙂
Getting in all the snuggles I can with the Finnabon. 🙂 Do you make nicknames for your dog? Our dogs name is Finnigan, but I call him Finnabon, mom calls him Mr. Finnigan and my sister calls him Findaloo- no real reason..
DAY 5
The first day of BoobCamp, I wanted to be comfy and it was a pretty mild day outside so I wore my very favourite 'Jacket Express' Islander Sewing System Jacket
I felt pretty cool walking into BoobCamp with a semi-me-made outfit on.
But this is how I felt when I got home, so tired from a day full of learning!
DAY 6
On Day 6 I was luck enough to start wearing my newly made bras! This is the first one I made! Still in love with this colour scheme, and it was a first time for me working with lace, so that was a bit of a learning curve, but one that I liked since I couldn't leave any of my bras without a little lace!
Here is me sewing this up on the first day!
DAY 7
On day 7 I was all about comfort, so I threw on my leggings and this top that I made. I copied the pattern off a cheap top I bought in the mall that went all pilled after about 3 wears
It has a knit front and back, with poly-chiffon side panels. I love the high-low style!
DAY 8
Another day and another bra! I got to wear my second bra-make on day 8!! I think this one might be my favourite of them all- I just can't get enough lace!
And here it was the day before, all cut-out and waiting to be made!
DAY 9
Last day of BoobCamp and my last bra-make of the course (although there is one in progress!)
I was really thrilled with how this foam-cup bra turned out, I'm definitely going to make another one of these and this time I will make it with a strapless option!
Still more lace- Between me, mom and Sonia we were definitely the lace-lovers table!
DAY 10
Today, coming home from BoobCamp, I wanted a simple way to give some style to my outfit while I maneuvered Costco and driving through Toronto with mom- so I opted for this statement necklace I made a week or so ago.
I love a statement necklace to really just bring a simple black tank up a notch! I love jewelry making- gotta have my bling!
I'll probably do a tutorial on this soon, it was ridiculously easy to make!
But those were my outfits and my me-makes of Week 2, can't wait for Week 3!
How is your MMMay going? are you making your pledge?
Let me know in the comments!
xo erin
Hi All,
I am so excited to be participating in Me-Made-May this year! And this is my first weekly round-up of outfits! It is a short week, as May only started on Thursday- but here are my first three days of MMMay!
Day 1
Taking Fin out for a walk with mom- it was a cold day so lots of layers!- and my most essential black leggings (you will see these a lot this May)!
The leggings are my me-make for the day (althought I am cheating slightly because mom made them for me, ssshhhh! don't tell!). They are the Jalie legging pattern, and they are super comfy and versatile in the simple black stretch!
Excellent for all your active needs 🙂 even Spring flower hunting.
Day 2
Day 2 also includes the leggings, but it is the top that is my me-make of the day.
This is a top that I made from an old BurdaStyle Magazine back in November. It has such cool style lines, and a really draped back, as well as being a crop top- I love it! And it is one of my first knit projects too!
And I get bored of taking regular pics so here is my interesting pic of the day. lol
Day 3


Day 3 was just a casual day around the house so I opted for this knit twist-front top from a Jalie pattern.
I paired it with a loose brown cardigan and surprise surprise, my leggings (I have an addiction to comfort)
And just to add some elements of style I put on a couple of my hemp bracelets made by my lovely sister.
And that was my weekly round-up.
It will be a little better next Saturday when there are more than 3 outfits! I'm going to have to plan ahead some outfits for when I'm at BoobCamp, I won't just be able to hastily pick something up as I roll out of bed!
Hope your MMMay pledges are going well!
xo erin