Hi All!
This Throwback Thursday I wanted to share something that I did in my third year of University: Vogue Charity Fashion Show (VCFS), which, as you can imagine from the name, is a charity fashion show hosted by a university club. I'm going to warn you right now- this might be a long post- this was quite an involved project!
(me and some of my models backstage in the dressing room- OMG I'm so cool, lol)
I was one of 8 student designers who got to present a collection at the show- and this wasn't just some little backyard fashion show- this was one of the biggest clubs on campus, and we presented at the Grand Theater in downtown Kingston!! It was so exciting!!
The theme for that year's show was 'VS. what's your fight', which you could interpret however you wanted. I chose to do 'Modern vs. Vintage'- which for me meant lots of vintage silhouettes and colours but with modern elements like cut-outs, cropped tops and low-backs! I also based my whole collection around my 'signature fabric' which I used as a guide for colours and included in most of the looks- which was this beautiful floral rayon that I got from Fabricland a few years back (you will see this in the looks).
I designed an 8 look spring/summer collection. I wanted it to cover the whole range of what 'my girl' would be doing through the day so I had two girls with day looks, a guy and girl in swimwear, two girls in semi-formal, and a guy and girl in evening.
My big mission in this collection was to make everything the models wore including accessories, ties and headbands! I used a combination of vintage patterns, modern patterns, free-hand drafting, copying the models clothes- you name it everything to make all the pieces, I've never been so challenged with fittings and design. And most of the garments were heavily modified from patterns because I designed them all from my mind without thinking to consult my pattern collection first…
Unfortunately I was crazy busy and run off my feet and I didn't actually manage to take full front/back pics of all the looks- but I will try to piece the collection together with these photos!
Here are four of my lovely girls! From the left I have: Katherine (day look) in her 50's silhouette red dress with cut-out back; Jackie (swim look) in her red high waisted cut-out bathing suit; Jordy (day look) in her cute little white high waisted shorts with little signature fabric waist belt and green crop top; and Morgan (semi-formal look) in her LBD with deep V back and complimenting belt.
In this next photo from the left we have: the smokin' hot Ming (swim look) in his red/black swim trunks; Me- happy to be in the company of such gorgeous models; Effie (semi-formal look) in her high waisted wide leg white pant (very Katherine Hepburn) and fancy rayon signature fabric top; a very hidden Shannon (evening look) in her long flowing bias cut gown; and Jordy again in her day look!
That actually covers everyone except for Howard (the other evening look) who will appear in the later photos from the stage!
But I have a few more- close ups of a couple of the looks
Here is Jackie again in the swimsuit- and I made her a matching headband with the signature fabric.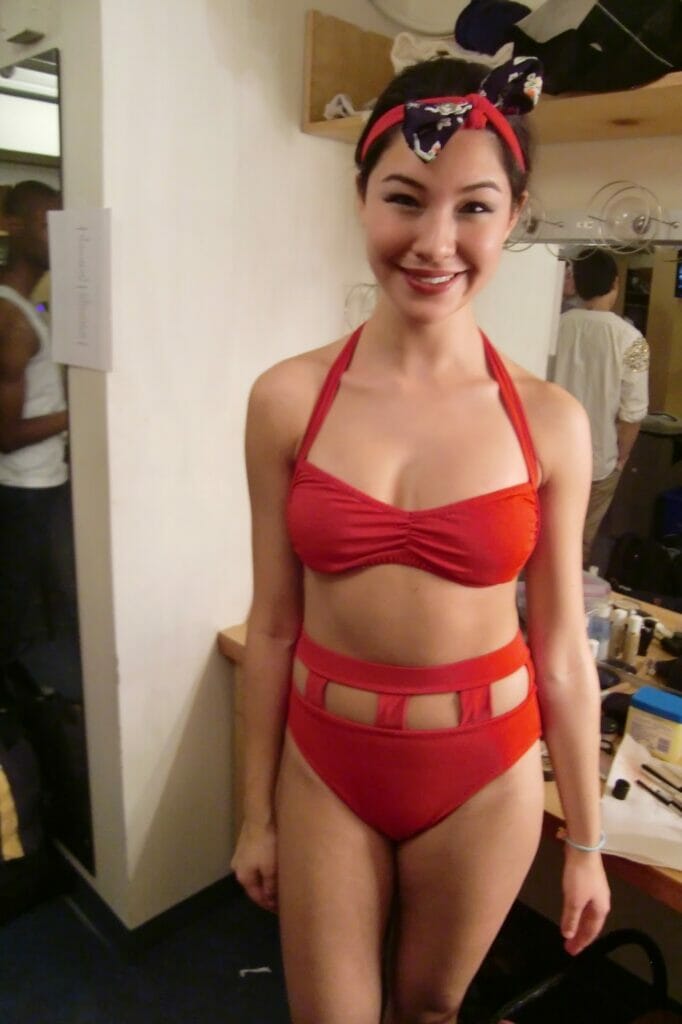 Here is Katherine again with her day-look dress, and here you can see how the back is a deep V with side cut-outs. (this might have been my favourite look) Also I made her a matching neck-tie in the signature fabric to match!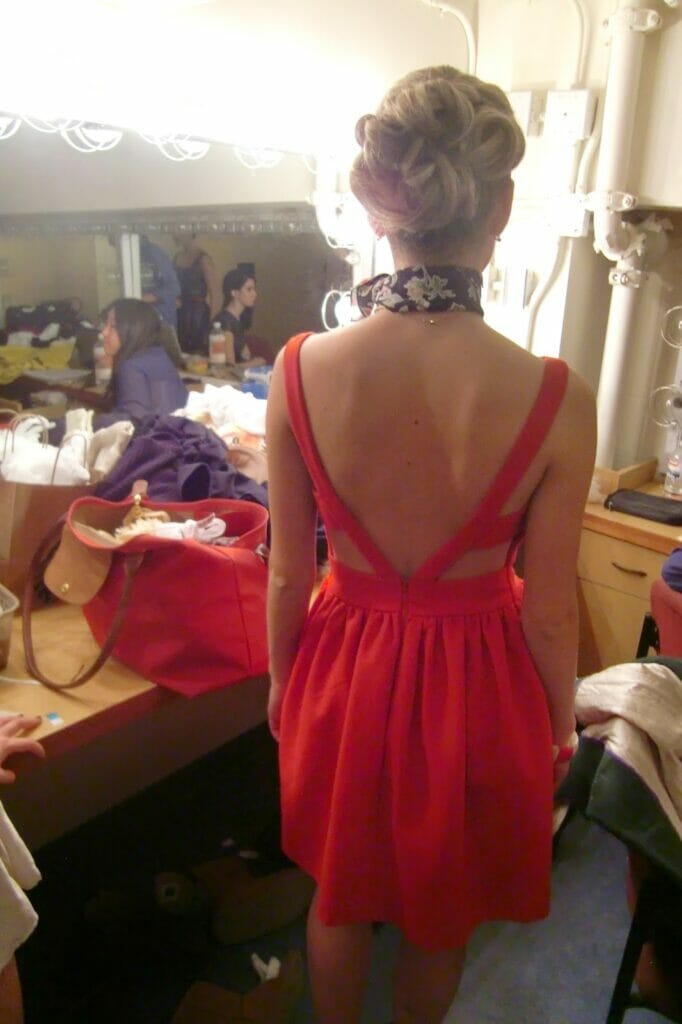 And here is a slightly better shot of the evening dress on Shannon, along with the semi-formal pant/top look on Effie! with me in the middle of course- can you tell I spent all my time inside working (I'm so pale!)
Then I got some shots from the stage!
This was Howard's look- a very slim fit black pant (I prayed that these would fit him- they were quite a slim fit!) A tailored cream shirt, which had a slight pattern on it, with a cream vest over top and red-tie made from the same fabric as the day-look dress, which was a wool crepe. – how classy does he look! I had the best male models ever!
I think all of the clothes looked great on the runway- and I couldn't ask for better models, they were all fantastic!
They had a whole choreographed routine with music- I wish I could have seen it but I was stuck backstage!
They all had professional hair and make-up too- I felt like a real designer!
And I got to walk out on stage at the end of my runway show and bow to the audience!
The show ran for three nights, and lots of money was raised. Between a combination of not having a use for my pieces and a love of all my models, I decided to let them all keep their clothes- so they are out in the world still being enjoyed- occasionally one of my models will tag me in their facebook pics while they are wearing them! 🙂
My only regret is that this show happened right in the middle of a busy time at school and I have to say, looking back I was SO overwhelmed- third year of a psych degree is not the best time to be doing this- but honestly I wouldn't trade it for the world- getting to go out on that stage and have everyone applaud my work, and having all my models love the way they look in the clothes after months of fittings and rehearsals. It was something I'll never forget- and it gave me a great opportunity to learn so much about sewing, and fitting and making things work! not to mention mens wear!
I can't believe that this was over two years ago now! And this was pretty much all the sewing I did for the whole year! What a journey that was!
xo erin