Hi All!
Style time! So I've been thinking a lot more about my style, and reading through all of the amazing links that you're sending me, and suggesting- and it's all so much to take in! But I have taken the time to do two things: write down key style words that I think suit me and my style & pick colours that I love for my wardrobe.
Let's start with the style words, because I think that says the most. I also found it the most difficult of the two- and I think it's partly because I have a few different styles that I really like and I bounce back and forth between. I think that there is a way to have them combine though- I'll make it work!
I've divided it into two parts: Yes Please! and No Thanks! – which are fairly self explanatory, but I thought it was important to include the words that I'm not really feeling- because it gave me a more clear idea of what I was into.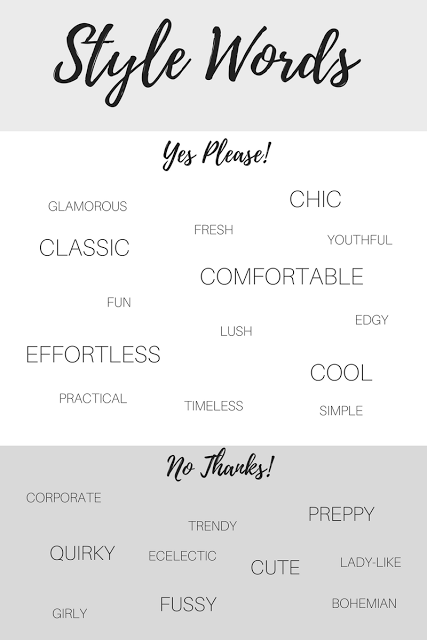 I've also made some larger than others because I think of those as my core important words, which for me are:  Chic, Classic, Comfortable, Effortless & Cool.
I think where I get confused about my 'dream style' is when I try to find a happy medium between the more 'Chic / Classic / Glam / Lush' side that I see as more – a beautiful cream coloured blouse, high waisted shorts and skirts, anything scarlet, a bit of a vintage flare and expensive fabrics with luxurious pops of colour.
And the other side of style that I also feel very drawn to which is more 'Cool / Edgy / Fresh / Youthful' – which I think of as – ripped jeans, leather jackets, white t-shirts and tights with shorter skirts- where you wear maybe more layers of clothes and jewelry and everything is darker colours and monotone. You know?
And As for Comfortable and Practical- well that is just a given with either style.
[I did want to include some style inspiration photos- but to be honest I haven't seen any outfit photos of me that I'm loving or that I feel would fit- and I'm terrified to use photos from Pinterest because of copyright] 
Next is all of the things that are not me- and I want to be clear- I've seen some beautiful ladies with these styles and they are stunning and amazing- but they are not me.
I know that I don't want to look: Fussy – this is a really big one for me, and one that puts me off of a number of things- I'm not a fan of too much volume especially not in ruffles, or long dresses/skirts, or weird sleeves (I ALWAYS push my sleeves up to my elbows, and if I can't I go NUTS!) But I also don't like things with a million details, complicated layers, or design elements. I think this partly goes in with that quirky and eclectic stye to me- I love to see it on others, but I just feel like everyone is staring at me if I wear quirky outfits.
The other thing I don't want to look is 'cute and preppy' – I think the angst about 'cute and preppy' comes from wanting to be taken seriously – especially as a 25 year old with a business – but on the other end of the spectrum- I'm definitely not looking for the 'corporate' and 'lady-like' feel either.
Does that all come across clearly? Does that make sense? Do you think that's a clear enough 'style goal'?
But wait- we haven't talked about colours- well here are mine 🙂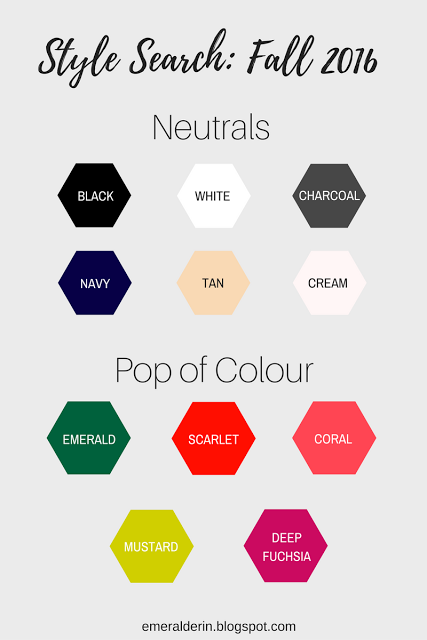 I chose these colours partly because a lot of them are already in my wardrobe that I have right now, and some of them are colours that I would like to have more of in my wardrobe. The colours that I already have are black, charcoal,  white, coral, deep fuchsia and a little bit of mustard.
I would really love to have more cream, scarlet and emerald in with the mix 🙂 But I feel like the colours are going to be a little easier for me than the actual shapes, silhouettes and putting the outfits together!
My general goal with colour is just to not overdo it, and to add as many neutrals into my wardrobe as possible- because I feel like that will be essential to making it more versatile.
So that is where I'm at with my style search- now to move on to my wardrobe and pull everything out!
I have a feeling that these words and colours will be edited over time and narrowed to something actually works in my day-to-day life, but for now I'm pretty happy with myself 🙂
What do you guys think of my colours and style words? Do you think it all lines up? Any ideas and suggestions?
What are the words that you would use to describe your style? Favourite colours to wear?
I love hearing from you about style 🙂
xo
erin