Hi All!
How has your summer been? My summer has been all about moving studios. I usually think about the summer as this 'in between' time where everything is more relaxed and things just coast for a little while. You take more time out to enjoy the sunshine and do all the fun summer things that you miss the rest of the year. And, while I have still been doing my best to enjoy the sunshine, it's been way busier than my normal summer coasting- full of big changes and new challenges- it feels much more like fall that way.
If you haven't been following for a while- you might not know the two big things- first (and by far the biggest) is that I'm moving my studio to a new spot- which I couldn't be happier about! The second is that I've launched a YouTube Channel- and posted my first video – a vlog about moving- so you can see some behind the scenes of the move! Both of these changes are so new for me and come with challenges- but honestly I feel like I've just swung open a door that has a million more opportunities on the other side! If you haven't seen that video yet- it's a great way to get up to speed with this moving process (and I'll be coming out with a part 2 of that vlog soon!). You can watch that here 🙂
And now on to the rest of the bra news!
Firstly I want to shout out something I am SUPER excited for this month!! which is the #BRAUGUST2017 instagram photo challenge- hosted by the wonderful Ying of TailorMadeShoppe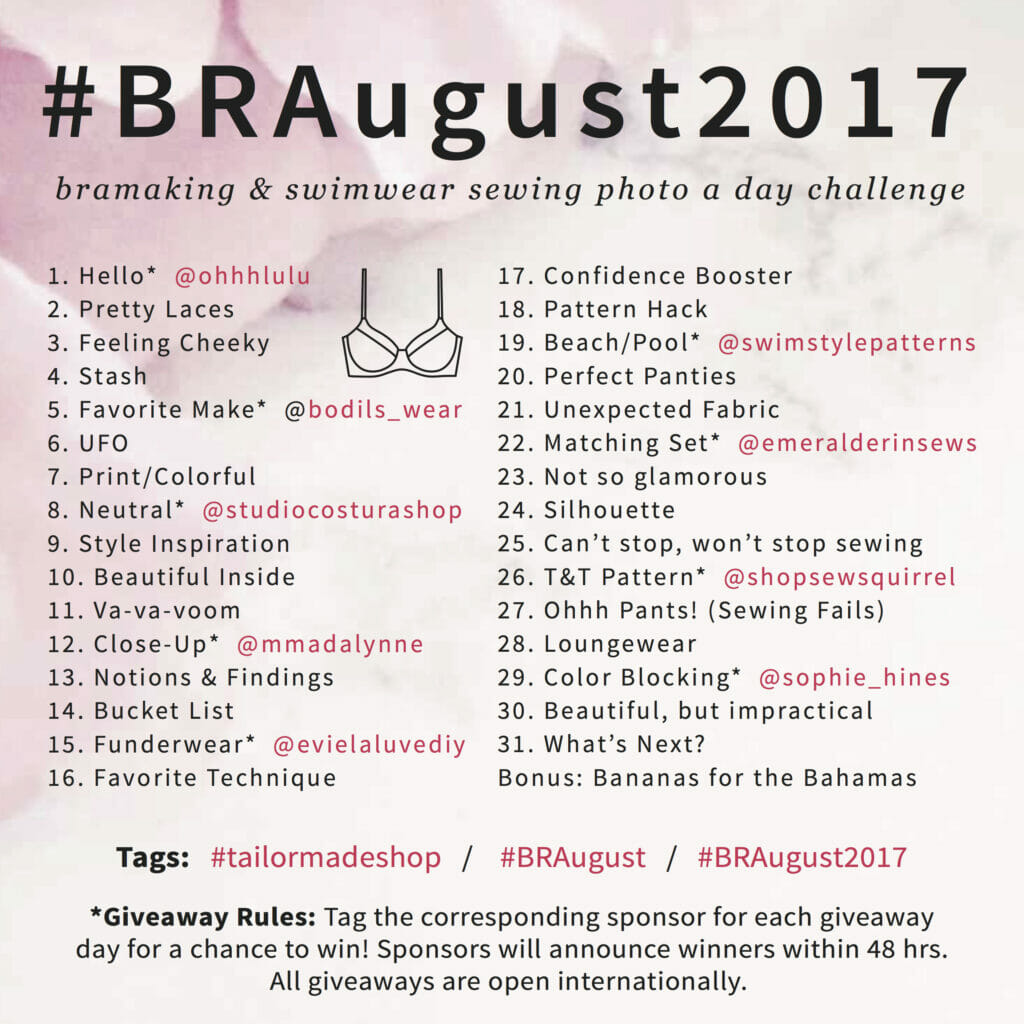 This is an amazing opportunity to post all of your gorgeous bra and swimwear photos and meet lots of other bra makers & swimwear sewists on instagram! There will also be giveaways galore- including one from yours truly :*
I can't wait to see everything that you guys are posting- and I've already been planning my posts- it will be a great way to step up my instagram game this month!
Besides planning an amazing instagram photo challenge, Ying also did a great Review of the Mimi Bikini Pattern on her blog, and a fantastic post on Where to Find Swimwear Supplies!
Kat of Kat Makes, wrote a great post on testing garter belts– which has left me with a real craving to make one for myself.
If you want to read some bra-wardrobe talk, and the pros and cons of bras vs bralettes make sure you read this great article from Katie of Katie Makes A Dress.
Karu of Studio Costura made a gorgeous bra with her tutorial on Sewing Foam Cups for a Watson bra!
Hannah of Evie La Luve launched a new pattern – The Mimi Bikini – this month : )
Rachel from Maker Style did a guest post on the Sew Your Hart Out Blog, all about her super cute new bikini!
I started this month out with a post about all the changes happening with my re-branding and studio move– which included launching my NEW ETSY SWIM SHOP!!!

I also kept up my underwire game with a specific post about each style of my underwires: Orange, Bliss, Round, Plunge, France, Omega & Carmen
And these went well with my posts on Modifying Your Bra Pattern for Different Sizes of Underwires, and my post on Modifying Your Bra Pattern for Different Styles of Underwires.
As mentioned before, I also launched my YouTube channel along with my first video this month- and I did a post about that too 🙂
You guys have made some gorgeous things this month as always!
As always- I'm so excited to see everything that's happening in the bra world- you guys never fail to amaze!!
What are your plans for the rest of the summer?
I always love to hear from you!!
xo
erin