Hi All!
I made my first patterns! Let me introduce you to The Jordy Bralette & the Tuesday Boyshort!
These are the two patterns that I've worn the most out of anything I've ever made- I seriously live in these!  The Jordy is a triangle style bralette, with a really wide soft and comfy band. The cups are non-stretch, so it gives that little bit of extra support and shaping, and I've made it with a few different view options- so you can go a little more simple in solid fabric, a little more classically beautiful with a lace overlay, or you can go super comfy/cute with a foam lining.
The Tuesday is your classic boyshort, and your classic with a twist. I love a nice boyshort, I find them so comfy, they move with you through the day, they have less panty line than a regular brief under so many things, and they're just really cute and practical. But I know that a lot of people don't like the seam along the centre front, so I made a second view with a solid front panel, but with the same seam up the back for a great fit!
I filmed a super cute lookbook to show off these new patterns (and to show off my dog Gibby), and I also launched a new online store where you can buy the patterns and lots of kits to make them up!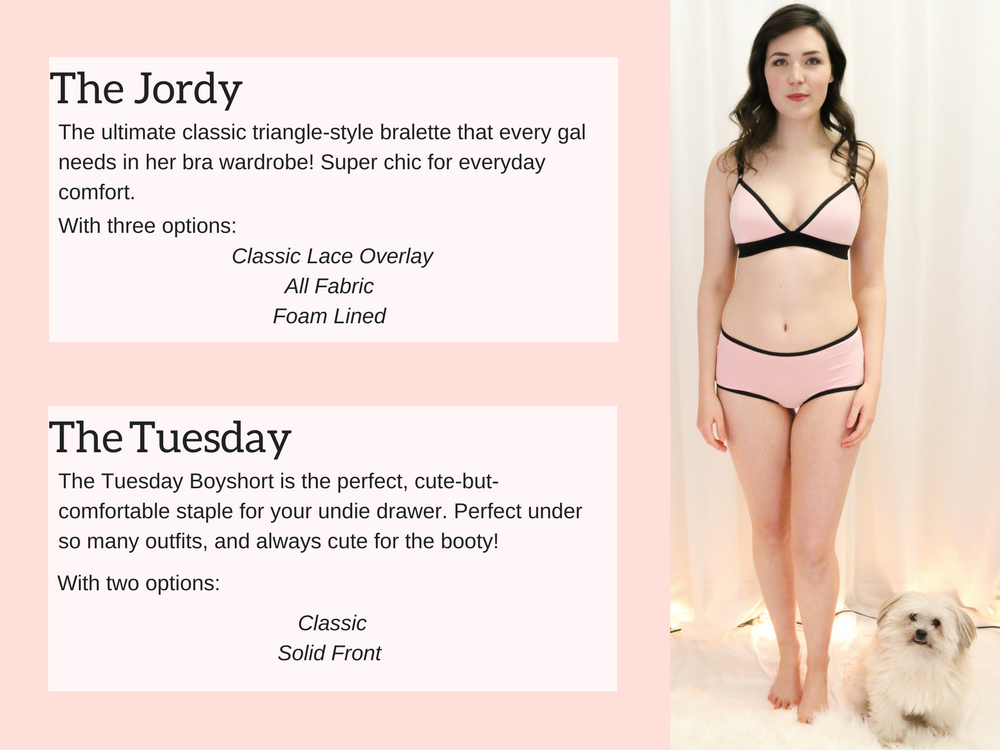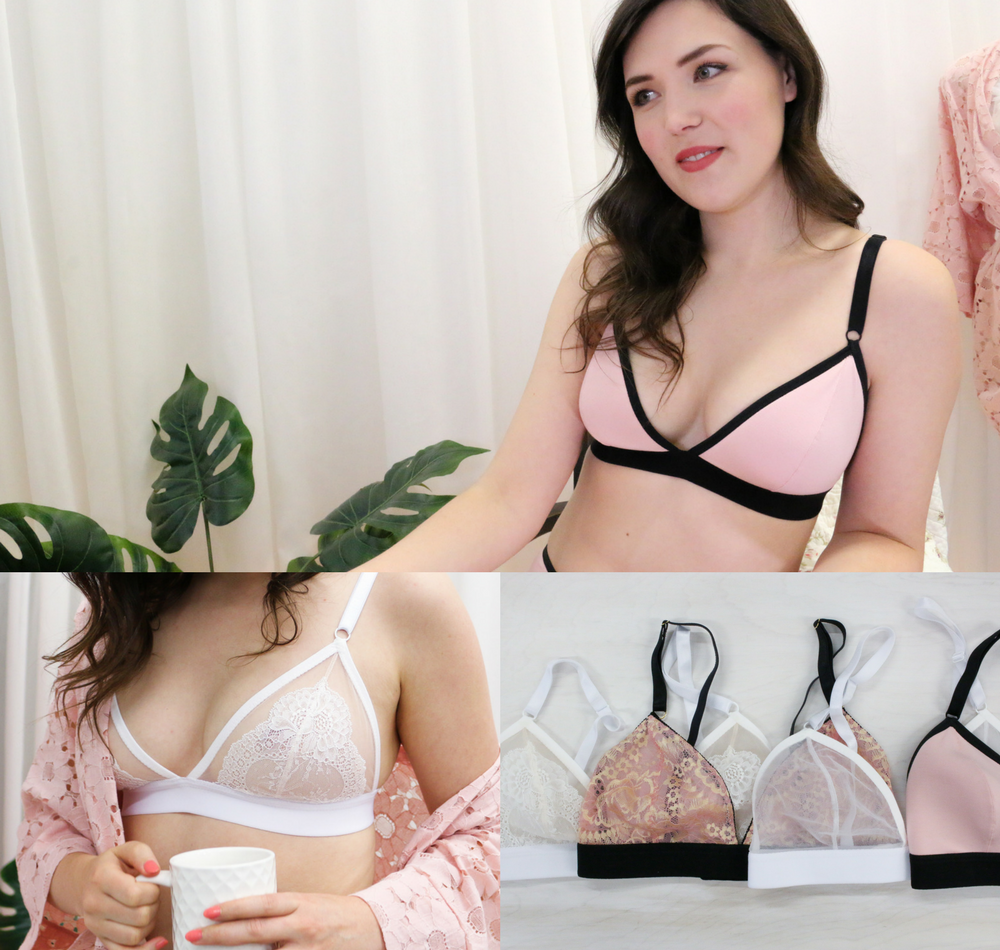 buy kits for all the beauties you see here to make your own
So, Why the Jordy & Tuesday?
Let me first say that there are SOOOOO many patterns that I want to make and plan to make, and I have lists of lists of things that I want to turn into beautiful PDF pattern goodness. But I chose to start here, with the Jordy & Tuesday.
Besides the fact that I've been wearing my Jordy's and Tuesdays all-day-every-day for the past several months (I think they've become part of me..) I wanted to start my pattern line with something that was chic, wearable and also something that was simple. For both me, as a new pattern designer, but also for all of you- so if you are new to bra making, you can start with a more simple pattern, learn the techniques and skills, and work your way up to the more complicated patterns with me.
The other thing that I love about these patterns is that they're both basics that are infinitely hackable. I'm already releasing them with different view options, but there are a never ending number of things you can do with these patterns to transform them into something really special!
How did you make the Jordy & Tuesday patterns?
You guys have been asking for years, and I can honestly say that I've been working on patterns for that long too. Patterns are hard and long work, and the idea for the Jordy and the Tuesday came about years ago. They started with the first versions that I made, then a few more modifications, then grading, then testing, then illustrating instructions, then formatting everything. Then if you're crazy like me, you film a lookbook, make kits for everything and open an new online store while your'e at it *sweats nervously*.
I started working on the Jordy & Tuesday over a year ago, and I had to learn how to use all the computer programs to turn my hand drafted pattern into a digital one, and how to illustrate all the instructions. I had to figure out how to work with my lovely pattern testers (who are all the most patient people in the world *thank you thank you*). I worked with a very dear friend of mine to translate the patterns into french. I collaborated with the amazing Jordy Benattar (pattern namesake), who is the musical artist behind The People (my lookbook song)- She was one of my models in a university fashion show and when I heard her song I knew it had to be my lookbook music! And, of course, I work with my mom on everything along with all the background of running my shop, moving my shop & staying mostly sane…
At a point in November I realized that I would never get the pattern out if I kept trying to do everything- which is why I took a break from creating content on my blog and youtube, so for all the lovely people asking 'are you okay??' and 'where did you go??'. The answer is 'great but tired lol' and 'I'm here, and I'm back!'.
What's coming up next? 
Lots and lot of content for the Jordy & Tuesday. I'm going to post video tutorials on sewing both the patterns, and hack videos on cool ideas to transform them! More kits, more inspiration, more everything to do with Jordy & Tuesday! So make sure you follow the blog & my youtube channel!
After my obsession with the Jordy & Tuesday – more patterns. I LOVED the process of making this pattern happen, and now that I've made one, I'm addicted, and I would love to release lots more, and hopefully quicker the second time around!
I would LOVE to know what you guys think of my new patterns, hear any votes for patterns that you want me to bump up the list for the future, and if you have any questions I would love to answer them!!
xo
erin