Hi All,
It's been a while since I did a bra news post, and I really miss them. I feel like it's a great way to connect with everyone in this space, and to keep up with what everyone's doing, and let you in on what's happening in my life too!
So – I'm bring back the bra news, but with a twist this time- I'm going to be putting it in my newsletter instead, so that it can be sent right into your inbox 🙂 So if you want to make sure you don't miss out on future bra news :

In the spirit of sharing again, I feel like I haven't given anyone an update in a while, and the truth is that it's been a really difficult few months for me. In the time since Christmas, I helped move my grandparents out of their house to a retirement home, then my grandma got sick quickly after in January and passed away, and a month ago my grandpa followed.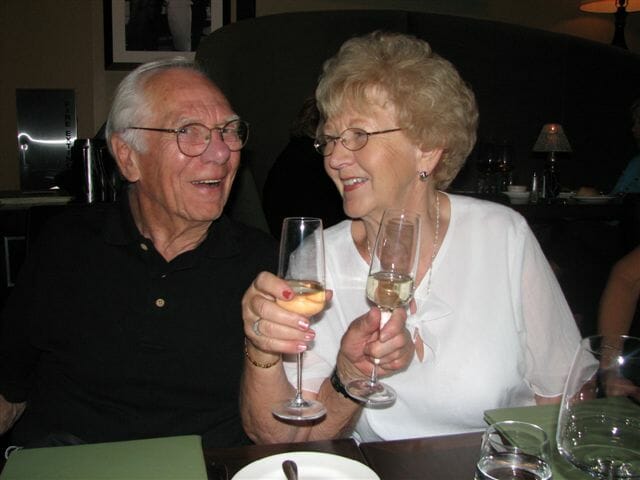 This was taken at their 60th wedding anniversary in 2009
There's the usual mess of appointments, and running around to take people to the hospital, but beyond the general added busyness, I've also just felt distracted when it comes to work. It's hard to turn everything off and focus on my next pattern, getting some great pictures for instagram or filming a video. I know that I'm very lucky, since my grandparents both lived long and full lives, travelling the world and spending time with their awesome family. But it's still really hard to let it go and move forward, especially when my business demands so much energy and passion.
I've tried really hard to be easier on myself and kinder to myself over the last couple months, when deadlines have slipped further and further, and some things have been left altogether. But I feel ready to start pushing myself a little harder. I feel the warmth and and sun of summer coming, and I need a wave of change to come with it.
I hope that wasn't all an overshare, but it seem strange in a way to keep everything so private, when you all are such a big part of my life.
—
Now, let's take a look at what happened last month in the bra making world…
This is what I was up to in April:
First was a Dior-Inspired Dress, with a strapless longline bra top, and tulle skirt- it was SO fun to make myself something so special!
I released some new Jordy Kits in Crushed Velvet that I've been LIVING in.
And more recently, I just released a Video Tutorial on Sewing My Jordy Bralette Sewing Pattern– which is great for people who learn best from video.

We've had some beautiful pattern releases this April including:
The Darcy Bra and Binky Panties from Evie La Luve, with a Blossom Add On for both to make even more variations
A cute little Cosmos bralette from AfternoonPatterns
A FREE pattern, the Hyacinth Bralette from Ohhh Lu Lu, with an Expansion Pack for more views
A sweet stretch lace Bralette Pattern from Alison Smith called Daisy
And a gorgeous lace panties pattern from Studio Costura called Stella
The internet has been full of helpful resources this month including: 
This Tutorial for Adding Foam to your Hannah Bralette from Studio Costura
A new sewing youtuber Alexis Marie, with a tutorial on Adding a Hook & Eye to the Barrett Bralette
The Breast Life complied a list of Online Bra-Making Supply Shops in Canada & US, and UK & Europe
Madalynne has been busy with: a tutorial about Making Lavender Sachets for your lingerie drawer, a tutorial on Hand-Washing you Intimates – which is a great reminder about taking care of your delicate underthings. And a great post Answering Common Bra-Making Questions that I too get asked all the time
Sarah of Ohhh Lu Lu has been a busy bee this month with: video tutorials on the Hyacinth Bralette including:  how to sew the pattern & alter it for larger cup sizes. She also posted a simple little video on using a Twin Needle. And if you didn't know, she's branched into some kids patterns and posted video tutorials on sewing her Belle Girl's Camisole, and Belle Big Girl Underwear
LizSews also released a video on sewing the Simplicity 8513 Bodysuit, which goes over sewing with stretch knits & applying elastic
Katie of Katie Makes a Dress, posted her Battle of the Bras comparing her versions of the Marlborough from Orange Lingerie and the Classic & Shelley from PUG patterns, which is a fantastic look at the finer points of customizing your bras for your body
A little eye candy- Sofía Luzón released her new custom-made collection the Ostara *swoon*
–
That's quite a list! It's amazing how big this bra-making community is getting – did you see any bra news happening this month that I missed? Please share!
Hope you're having a great weekend!
xo
erin