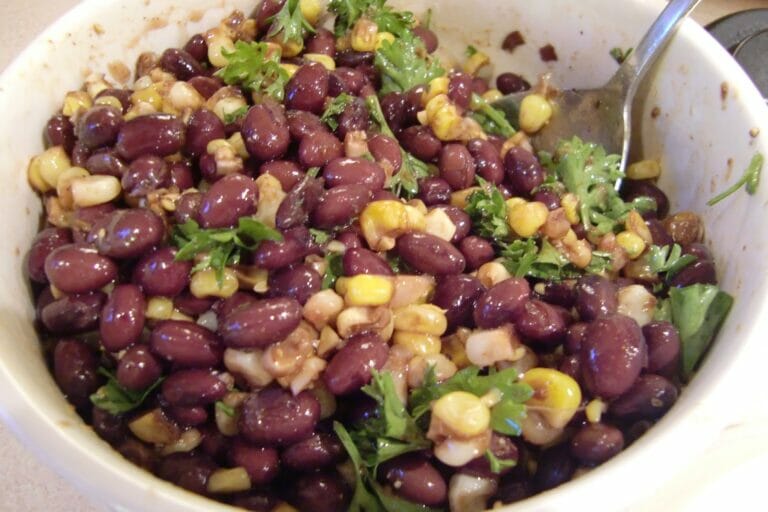 Hi All,
I thought I would call this Sunday "Summer Sides Sunday", a name created most ingeniously by my mom for all of these side-dish posts that I've been doing. And I figured that after a winter of soups and roasts that I haven't really shown you much of all the sides that I serve with these things, and especially all of my favourites with all the seasonal vegetables on right now!
So today's salad is another cold salad favourite that is always kicking around our fridge in the summer to go with dinners and lunches and that is Black Bean & Corn Salad, which you can imagine has both black beans and corn lol.
Black Bean & Corn Salad
1/4 cup Balsamic Vinegar
2 tbsp Extra Virgin Olive Oil
1/2 tsp each salt, sugar, pepper, ground cumin & chili powder
3 tbsp cilantro chopped
1 can black beans (rinsed and drained)
1 cup corn kernels
This is really as easy as gathering the ingredients and putting them all together.
I like to mix the vinegar, oil and seasonings first, to make sure they're incorporated.
Then mix in the corn, beans and cilantro.
and Voila! A very flavourful salad that goes with everything. It lasts for about a week or so in the fridge and I find it gets better with age as all the flavours marinate together.
And while I was mixing this up, mom was making some infused olive oil, using some chopped fresh basil from the garden and some sliced garlic, which should be good on salads or over fresh asparagus!
mmm I love summer!
Hope you are having a lovely Sunday and if you want, let me know what your summer favourites are in the comments!
xo erin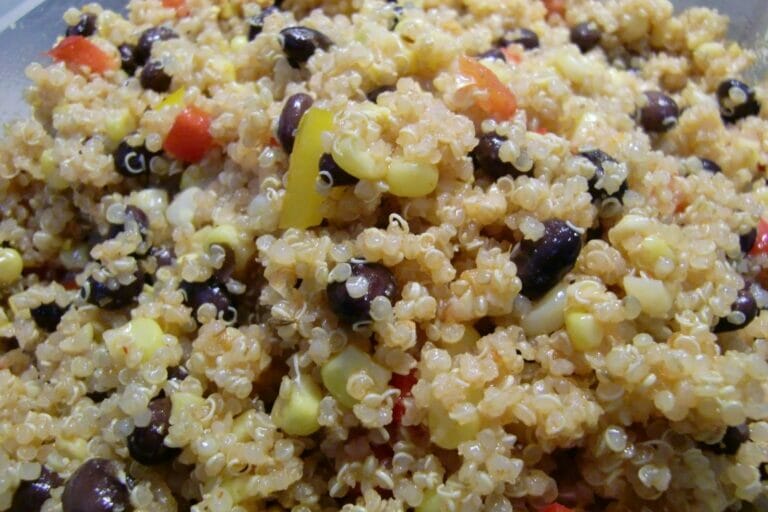 Hi All,
I thought I would continue the trend from last Sunday and show you another salad. This salad is a summer staple in my house, and there is usually a batch of it kicking around in the fridge at all times for lunches or to serve with dinner.
It's super simple to make and doesn't have anything in it that spoils quickly so it lasts for quite a while in the fridge!
Quinoa and Black Bean Salad
1 1/2 cups dry Quinoa
1 can of black beans (rinsed)
1 1/2 tbsp red wine vinegar
1 1/2 cups cooked corn kernels
3/4 cup chopped bell pepper (about one large pepper)
1/4 cup chopped cilantro (although I didn't use it in this batch)
Dressing
5 tbsp fresh lime juice
1 tsp salt
2 tbsp chili sauce (sririacha sauce)
3 tsp ground cumin
1/3 cup olive oil
Cook the quinoa according to the instructions on the package, cool in the fridge.
Mix black beans and red wine vinegar together and let it sit while you make the dressing. Make the dressing by mixing all the dressing ingredients together in a bowl.
Mix the cooled quinoa, black beans, corn, peppers, cilantro and dressing all together. Bam- you have a lovely summer salad.
This is SO easy and I've had a lot of requests for this recipe before- as I said it is quite a household staple! And to top it off it's very healthy too!
Hope you are all having a wonderful Sunday!!
xo erin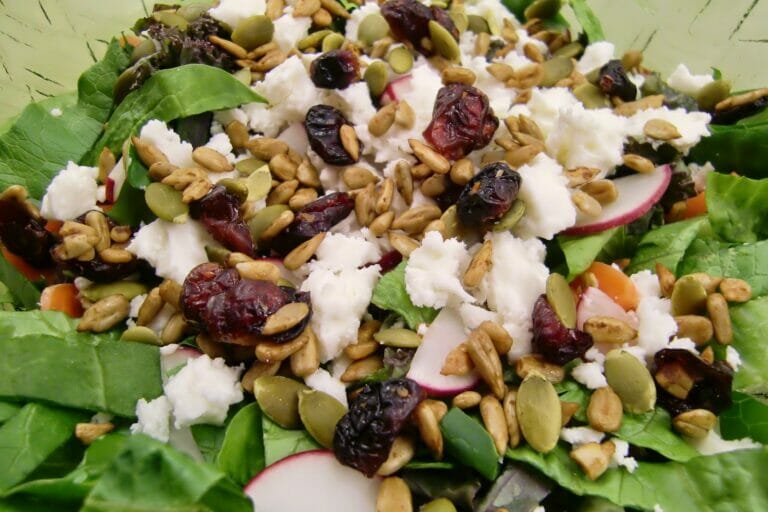 Hi All,
It occurred to me this Sunday that so many of my dinners in the past I say "and serve with a nice side salad", but I've never talked about what salad I serve. I actually eat salad almost every night, and it isn't always the same salad- there are slight variations on it and that mixes it up enough for me.
I also find that a lot of people don't like making salad regularly because it takes a lot of time to chop up all the veggies- so I have a way to cut down on time too!
What I do to cut down on time is to make 2-3 days worth of salad all at once, then store it in the fridge for the next days to come. On the left is salad for the night, and in the tupperware is salad for the next night! It takes almost no extra time to make double the salad once you already have everything out!
– Now it is important to note that I do not complete the salad -dressing and all- it is more of a 'base salad' that I store for the next day- no additions. Then it doesn't get soggy and you can mix it up the next day. The base salad I go for has a mix of kale, spinach and romaine lettuce, and sometimes radishes and carrots.
Mom and dad's favourite salad is this one: it has sheep's feta, cranberries, sunflower seeds and pumpkin seeds (with the carrot and radish)
They eat this salad all the time, and I get bored of things really quick, so I made up my own separate very simple salad with radish, poppy seeds
And we use different dressings too- mom and dad like Renee's caesar vinaigrette and I like to mix this raspberry balsamic vinegar with basil olive-oil! mmmm
Then you can have all different salads every night without all the hassle of making a salad every night! Tonight the salad went with stuffed pork tenderloin (recipe here), coconut nutmeg sweet-potato (recipe here) and some fresh local asparagus fried with a bit of garlic!
So now you know a bit more of what I'm talking about when I say "and you could serve this with a nice side salad" in all of my Supper Sunday posts! Here is another picture of my dinner, only because I'm obsessed with my new light box!!
Hope you are all having a delicious Sunday!
xo erin