Hi All!
August has been a lovely month. I think it's one of the slower months in the bra making world as everyone soaks up the best weather of the summer and finally takes that weekend off to go somewhere and do something fun.
For me it was a busy month settling into my new studio. It is SO nice to finally feel moved in and start actually working in the new space- to get pattern drafting, sewing, to do a photoshoot – and now video! And I am always being happily surprised by how much I love my new spot and how much it suits me : )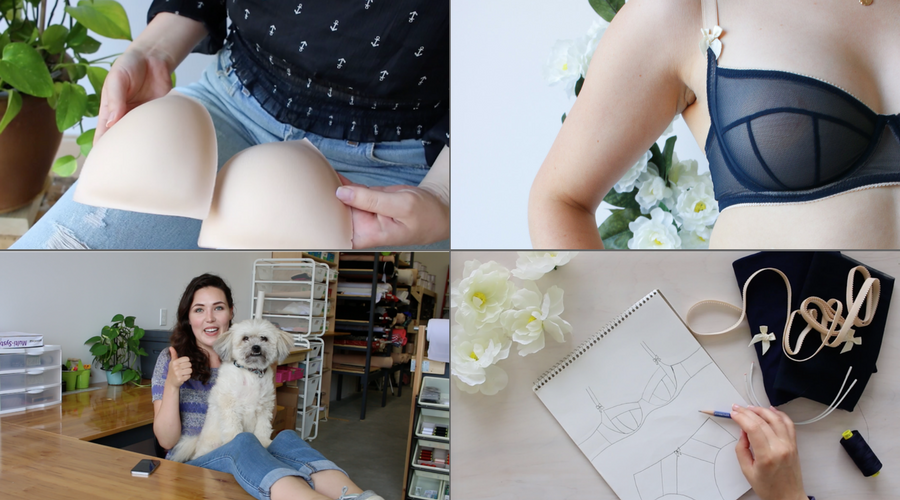 This month in the new studio I managed to:
Share my second Studio Move Vlog, where I give you guys the behind the scenes look at moving into my new space, where you can see it all come together!
Next I dove into some swimwear with a video all about the best linings, elastics & foundations to use for you swimwear!
Then I got sewing! And I made my Latte at Midnight Set, which I'm totally obsessed with and got to do an amazing photoshoot in the new studio 🙂
And I also made a little Making Of video– where you can see me sewing up the set- and a glimpse at my Bernina in action!
That about wraps me up for this month- but you guys have been doing some amazing things too!
First I want to mention the #BRAugust challenge – hosted by the lovely Ying of TailorMadeShoppe – which has been a wonderful instagram challenge this month, all about bra making and swimwear- and giveaways! I was so happy to announce the winner of my Latte at Midnight set to @patiencemeetspassions!!
Norma of Orange Lingerie has done a wonderful series on traveling with your lingerie- including Strategies for Packing, How Much Lingerie You Should Pack, and How to Launder your Lingerie While Traveling.
Kat of Kat Makes, wrote a lovely little tutorial on Converting your Full Band Bra to a Partial Band Bra.
Maddie of Madalynne, posted some lovely articles this month about: 4 Ways to Use Leftover Lace, her Latest Sewing Project- The Alba, and an interesting article about Her Thoughts on the Challenges with American Made Products.
Hannah of Evie La Luve has been busy with two new pattern releases- the Willow and the XO Bralettes– and some videos including one about Altering the Cup Size of a Soft Cup Bra.
The best place to find all of your beautiful makes this month will be #BRAugust on Instagram!!
Hope you've had a wonderful month!!
xo
erin