Hi All,
It's been quite a while since I blogged, and quite a while since I made a bra just for myself- not for a pattern sample or to test a pattern. Just for me 🙂
As you can see from the title of this post, I want to tell you all about my new set, but I also wanted to talk about a subject that I'm really passionate about – body image & body positivity.
So first, let's launch into the details of this set!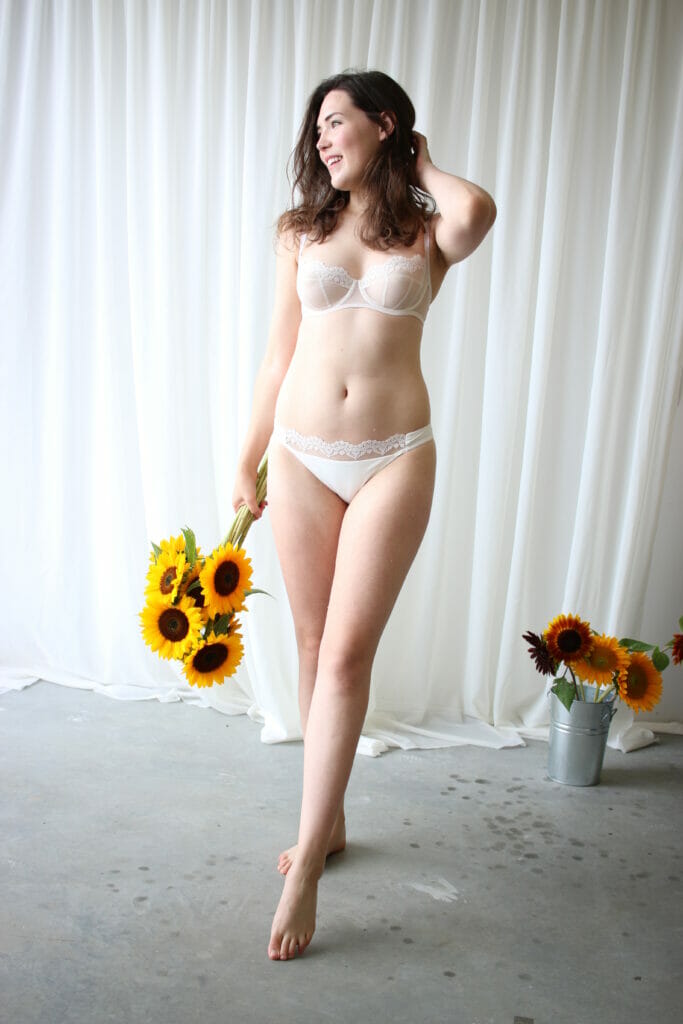 I used the same self-drafted pattern as I did for the Latte at Midnight set. It's a 5 piece cup: powerbar, upper cup and lower cup split into 3.
The very special thing about this set is that I made it using a small piece of embroidered tulle lace that I bought on my trip to Barcelona last year in a little shop that my friend Sofia Luzon brought me to called L'Arca. I've been holding on to it to make something special, and this was the perfect project!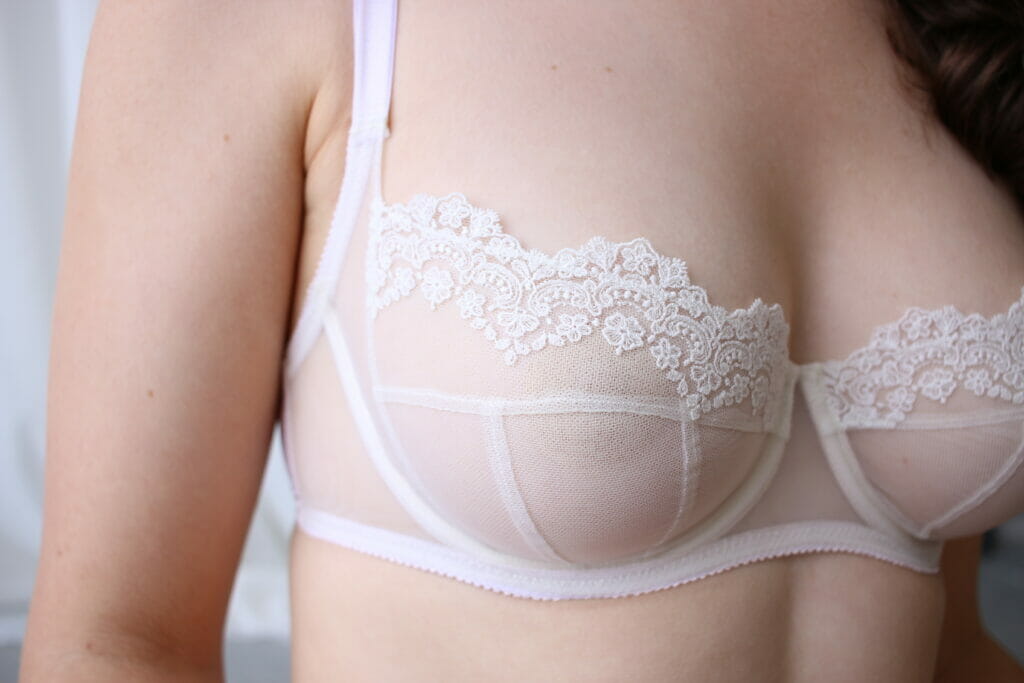 For the other materials in this set, I used my bra tulle in warm white, which was a perfect match to the lace, and then I took my all my elastics, findings and powernet and dyed them to match with tea. Yes, you can dye your findings with tea (as long as they're all nylon based). I just soaked everything in a little bit of Twinnings Early Grey, my morning staple, and then hung them to dry overnight. The secret to getting an even dye is to soak everything in water before you add the dye or tea, so that it absorbs evenly everywhere. I was so happy that it all turned out such a perfect colour match!
All the materials I used for this set (except the lace) are in my tulle underwired bra kit.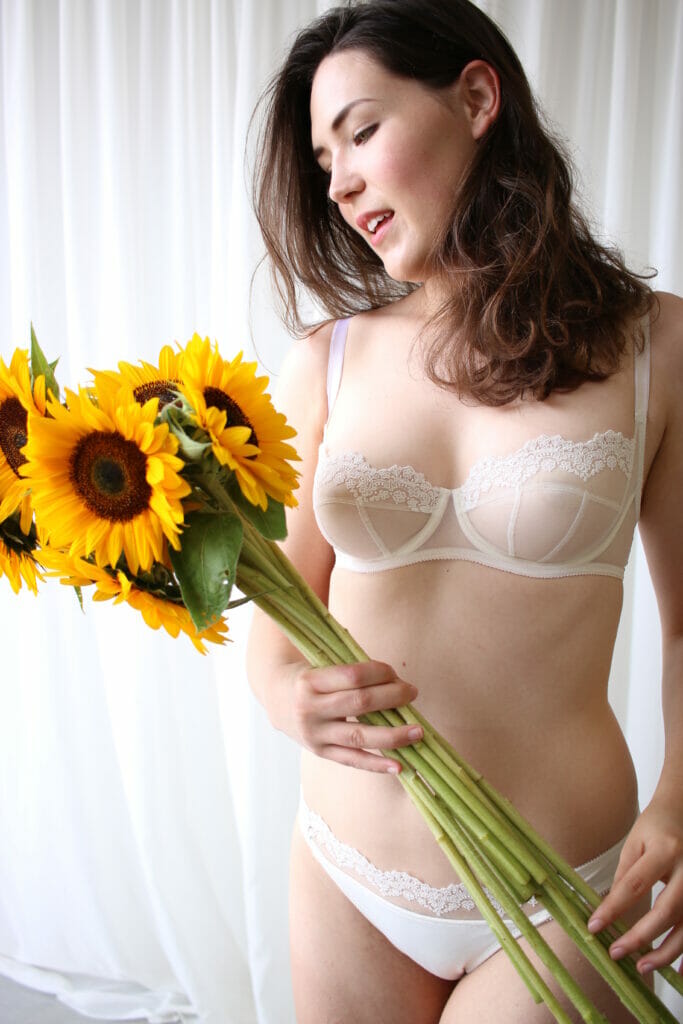 Now for the body image talk…
The day that I was taking these photos in this bra set, I was listening to the Love to Sew Podcast, their recent episode with Allie Olson and near the end they started talking about body image and body confidence, specifically in the sewing world where people are making their own clothes and taking pictures of themselves and posting them online for the community.
It got me thinking about my journey with body confidence and sewing. It's not something I've talked about online before, but it's something that has been a big part of my life. I've struggled a lot with self esteem, body confidence, dieting and disordered eating. It was something that dominated my teen years and early twenties, and something that took a sharp turn for the better when I got into the sewing world.
When I got into sewing, and involved in the sewing community, my view of myself and my relationship to clothing and size started to change. I learned quickly that every body is different. Everyone was making modifications to their patterns, grading between sizes for top and bottom. Alterations were the rule, not the exception, which immediately made it feel so normal to have a body that wasn't 'industry standard'.
Getting into bra making and swimwear was another leap. I learned a lot more about my body and fit, but the bigger leap was sharing the things I made and sharing them on my body to the online sewing community. I think it was my passion for bra & swim sewing that really pushed me at the beginning. I remember thinking 'ugh, I hate this picture of me, but I REALLY want to share this bathing suit that I made… and everyone in the sewing community is always really nice, and my blog is so small, hardly anyone is going to see it anyways… so I'll just do it" – then the moment of mini panic after you hit the publish button- eeeeekkk!
Over time it got easier and easier to take pictures, and share pictures. And, don't get me wrong, I still have bad body days – where I really wrestle to like myself or to post any pictures of myself, or not be super critical and over-analyze every aspect of my body in a photo. But now, I'm a lot better at taking a step back and reminding myself that I'm in an unhealthy mindset and need to get a better perspective.
It's also helped going into my mid/late 20's and learning so much more about myself and what makes me happy and comfortable, so I don't put myself in a place where I'm going to be in a negative mindset. One of those things for me, was learning that I feel best about my photos when I look happy, and my poses are about comfort, joy, or being a girl boss! (like posing with sunflowers, my puppy or power-poses in my studio) – not when I look 'dramatic' or 'sexy' – or really anything where I feel objectified. [not that there is anything wrong with taking pictures like that if you love it! I just learned that it's not for me!]
But, coming back full circle, taking these photos of my new set, with a big bunch of sunflowers – listening to the podcast – I couldn't help but think about how far I've come, and how much happier I am in my journey now. And that I should share that more 🙂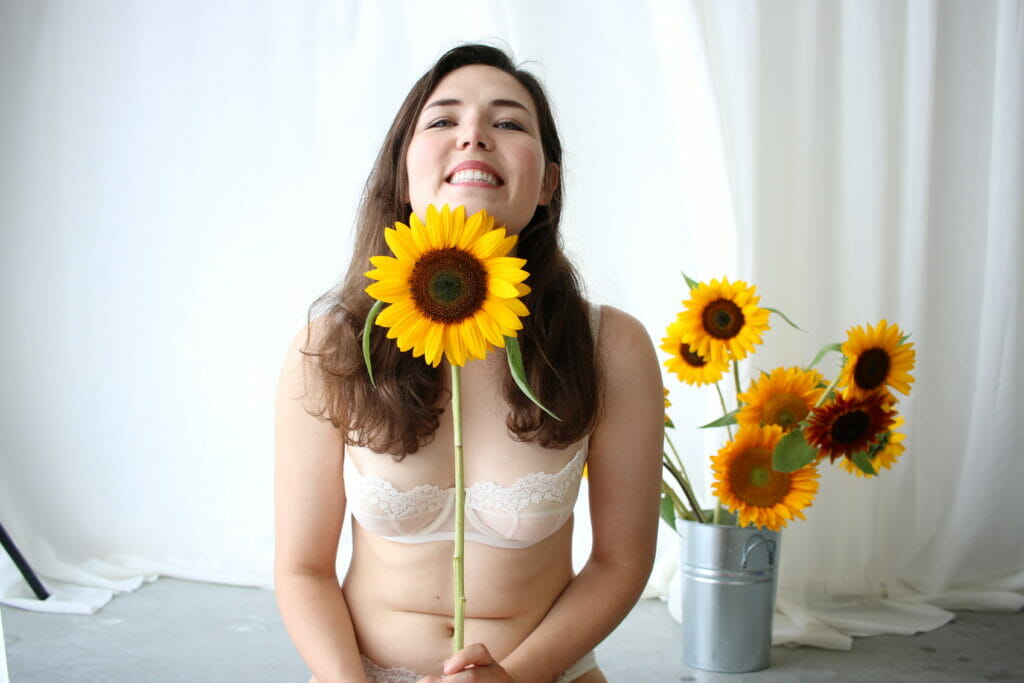 I would LOVE to hear any of your experiences with body image and if sewing has helped you, if you understand or can relate.
I feel like I could talk about this endlessly, and especially in relation to how women feel about their bodies in bras and underwear! That is a whole other area of this topic that I'm massively passionate about.
Hope you're all having a lovely Sunday!
xo
erin